Instilling corporate values in employees
At the SATO Group, we believe that our competitiveness lies in the strengths of the individual. This is why we commit to "Building people, Building business," with our corporate values as its foundation.
Building on our corporate motto "Ceaseless Creativity" penned by founder Yo Sato, we have developed our corporate culture, values and code of conduct over time into what we now call SATO Values. As we expand our business globally, spreading SATO Values to guide our decisions and behavior is more important than ever.
This is why we established SATO Values Office in 2016 and went on to appoint over 50 promotion leaders, selecting from group subsidiaries worldwide to serve as "ambassadors" to impart to their coworkers the company's reason for being (Mission) and what we aim to achieve (Vision). They conduct various activities in their respective countries/regions, one being SATO Values workshops, whereby they work off of a training program that is developed/revised every year to facilitate discussions using workshop materials that are translated into 15 languages (as of August 2019). Among the leaders themselves, they also hold meetings and exchange information with one another whenever necessary.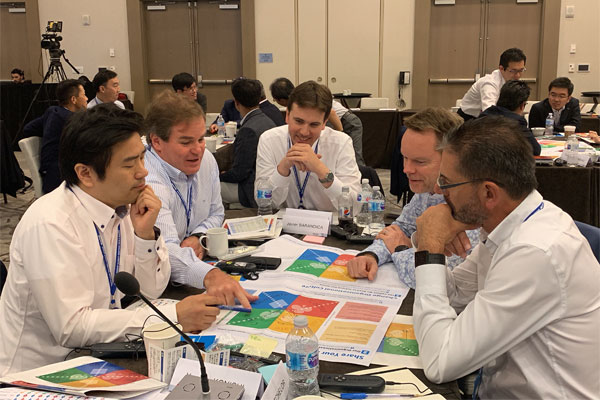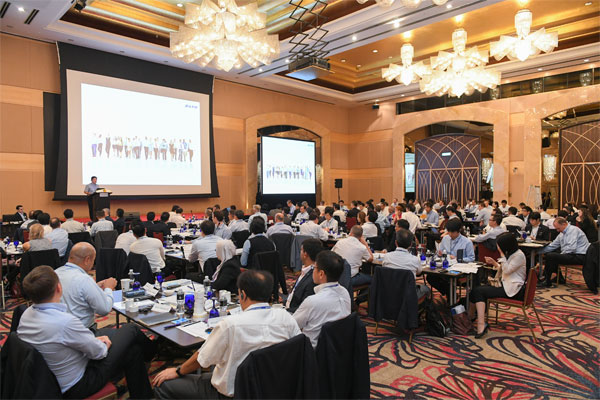 In 2018, we also started holding the Credo Awards World Cup to recognize individual employee behavior over the past year that lived up to our Credo. This annual event allows for the sharing of outstanding behaviors with our global workforce, and contributes greatly to the promotion of our corporate values.
Each group company collects entries from its employees for nomination to the global competition, in which group company heads and values promotion leaders vote to shortlist the finalists. Finalists are invited to the annual SATO Group Summit, where they would present their episodes on the Credo Awards World Cup stage, to receive votes for the Best of the Best. More employees enter the contest every year, with more entries involving highly Credo-compliant actions than ever. After the World Cup, finalists return to their workplaces brimming with confidence, motivation and growth, bringing renewed energy to their teams.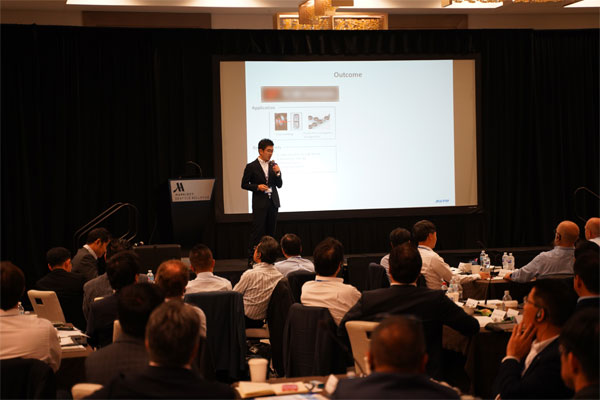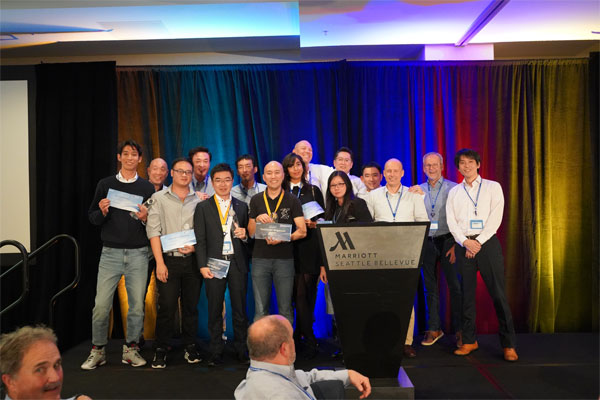 Employee feedback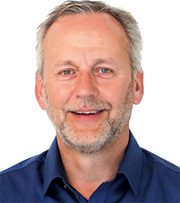 Members of our European offices gathered in Amsterdam for their first-ever SATO Values workshop. Participants came back with comments like, "It was highly practical," and "It was worth every minute for the opportunity to discuss and exchange opinions with everyone." Having the unique chance to meet face-to-face with colleagues from other countries and to talk about corporate values was a huge benefit to developing a sense of unity.
By standing on the same common values we are able to collaborate with one another over our diverse historical and cultural backgrounds and produce successful results in our business. Every one of us here at SATO Techno Lab Europe now understands the importance of corporate values and is exercising them in our daily work.
Staff training and development
As a business that finds its competitive advantage in being Powered On Site, we depend on our people for sustainable value creation. That's why we provide robust training and development programs to foster talent who possesses the competency and can live up to our corporate values.
At the core of our human resource development are our corporate values and the expectations we set for employees based on these values. In FY 2017, we started with spelling out key competencies that are expected of managers in order to have them perform sustainably in delivering results, and continued in FY 2019 to develop this into a model of competencies defined by each manager level. Our next step will be to ingrain these competencies into our employees in Japan via necessary trainings.
Key competencies
Scroll right for more
Building People

1.

Leverage individual potential (Diversity)

2.

Hone skills (Professionalism)

3.

Work together (Collaboration)

4.

Motivate team members (Team building)

Building Business

5.

Understand the facts (Insight)

6.

Think critically (Strategy)

7.

Drive changes (Challenge/innovation)

8.

Accomplish (Result orientation)
To help our employees keep up their competency performance, we are also laying the necessary groundwork for measuring individual competency attainment and implementing the PDCA cycle. For the Check stage of the PDCA cycle, for example, we have introduced a 360-degree feedback process that allows not just the employee's superior but also their peers and direct reports to provide feedback on their work. We make sure that this feedback is based on objective "observation" and not "evaluation" (which can vary depending on the giver's interpretation) because we want employees to be able to really use this feedback toward self-reflection and bettering their work behaviors/skills on their own initiative. While outcomes are also important, we believe that this visibility of the process involved will encourage self-improvement in employees to help us develop talents who can help our business grow sustainably.
We will roll out the same scheme to our operations outside Japan starting FY 2020, stepping up our efforts to spread the competency model group-wide, together with the SATO Values.
Examples of training and development programs
Training for managers
Managers play a key role in driving the team to success, and their performance can affect the future of a business. We provide competency trainings for new managers and manager candidates to give them the opportunity to learn about how they should act and why their leadership matters to the company's performance.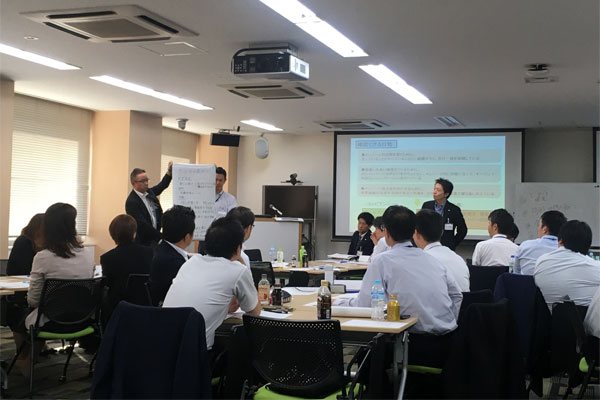 Career guidance
In Japan, we are working with employees of different age groups to help them look back at their own career paths/lives as part of career development. Currently, this career guidance is provided to new employees (in their first, second, or third year of service) and long-serving employees in their mid-fifties, with plans to cover other age groups in the future.
Japan is entering the 100-year life era. While the local retirement age was raised to 65 in 2007, we also want to keep our employees happy and healthy from learning new things and finding meaning in their work as they live longer lives. In line with this, we are creating more opportunities for employees to rethink what motivates them in life and how they want to spend their silver years both in and outside of work. We also hope to implement different workstyles to better meet their individual needs.
Support for self-improvement
Developing an English-proficient workforce is crucial to SATO because our global business is one of our growth pillars. Every department functions differently, so instead of taking an across-the-board approach, we have different learning goals for different departments that are set based on their respective missions. Currently, a dedicated team in Japan is tasked with supporting local employees in their English learning, and going forward, its scope will grow to include employees working in non-native English speaking countries/regions.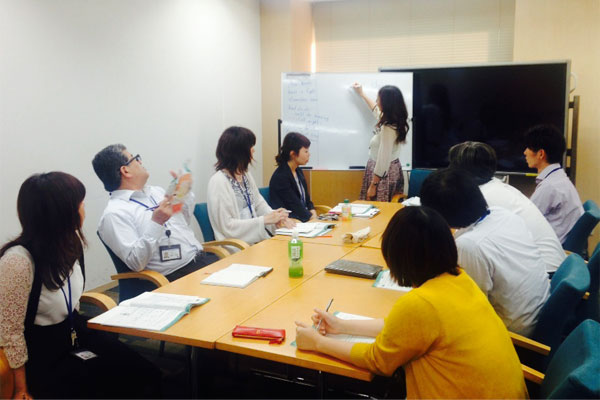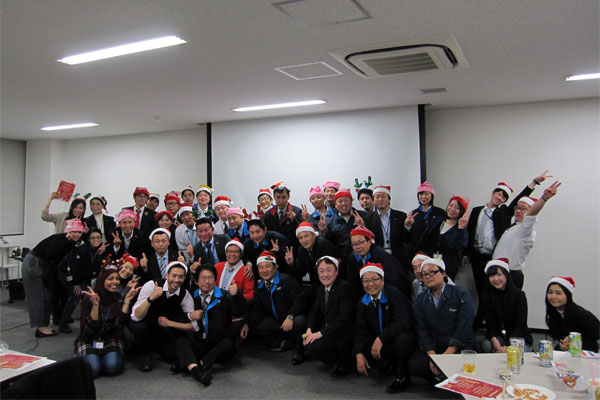 To help employees expand on their own capacity, we also conduct in-house seminars on the practical applications of business management and finance concepts/methods with the help of teacher-employees. Employees can study for MBA or part-time degrees, and online courses are subsidized, providing support and learning opportunities in different ways.