Teiho: Our one-of-a-kind insight sharing platform
Teiho is SATO Group's internal insight sharing system. Employees worldwide regularly submit proposals and findings directly to the management. First utilized in Japan, the system has served to raise employee awareness on existing issues to encourage creative solutions for over 40 years. It is now implemented throughout the group in nearly 20 countries. Teiho is the basis of our sustainable growth that initiates changes both small and large to meet the needs of the times.
What is Teiho?
Teiho is a system for employees to submit original ideas, innovations and proposals aimed to make the company better and on how to put them into action, drawing from customer feedback or market information they obtain from their field of operations.
Teiho reports are submitted regularly and top management uses these insights to send out instructions for relevant teams to take various initiatives. They serve as our driving force for making many business decisions and changes.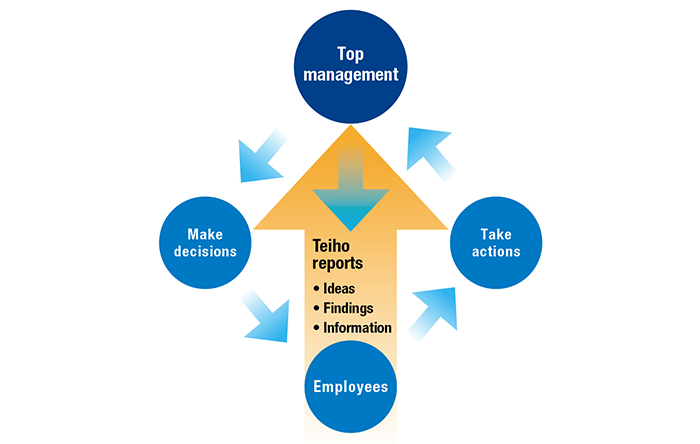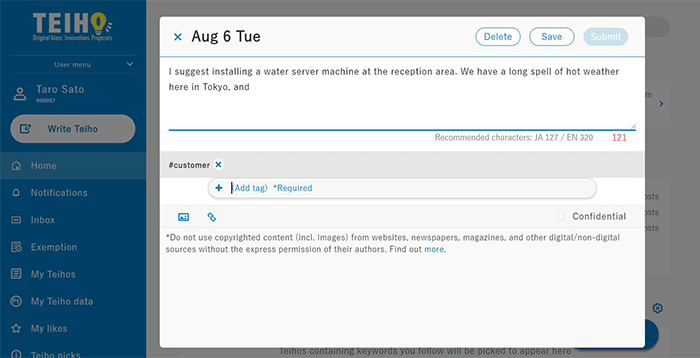 Actions initiated by Teiho reports
Example 1

Accurate food labeling proposal to enhance food safety

Accurate labeling of expiry date or use-by date is crucial in the food industry. In order to eliminate the risk of erroneous product labeling information, an employee suggested a verification function on printers that would prevent users from entering anything other than the correct date. Top management instructed the relevant teams to develop this function, and it was soon added to our label printing software as a standard feature.*

*Software package for the Japan market

Example 2

Customer feedback for speedy IoT service improvement

Reports revealed that customers interested in SOS (SATO Online Services: our cloud-based printer monitoring service) were balking at real-time 24x7 connection because their in-house network security standards were very stringent. Top management shared this information to the related units, which quickly enabled on-demand SOS connection via SIM and mobile network to enhance the service.

Example 3

Using our own products to manage food in the office refrigerator

In response to employees leaving food unmarked in our office fridge, a report suggested the use of our own FX-3 labeling solution to encourage everyone to effortlessly print out a label with their name, date and time on it to apply on their food package. Great ideas like this are put to action immediately.
The Teiho system is now utilized globally, with a raft of creative and valuable ideas, suggestions and reports from our offices in the US, Europe, Asia and Oceania delivered to top management every day. We have launched a global Teiho platform that identifies trending topics from submitted reports, provides a searchable database, and lets users follow keywords of their choice to automatically receive reports on matching topics. It lets every employee share, use and give feedback on any Teiho report submitted from anywhere in the world, which potentially refines and upgrades the original ideas and suggestions.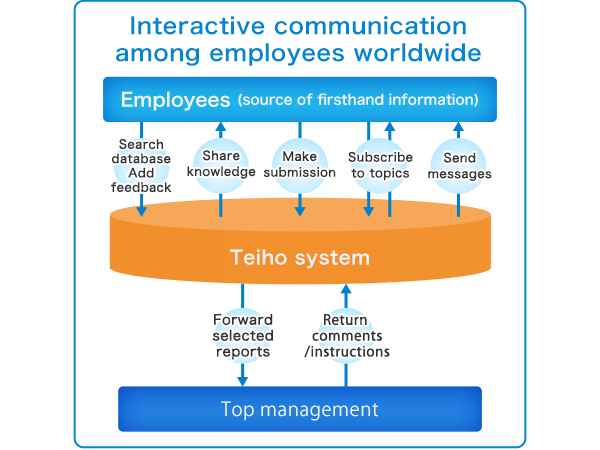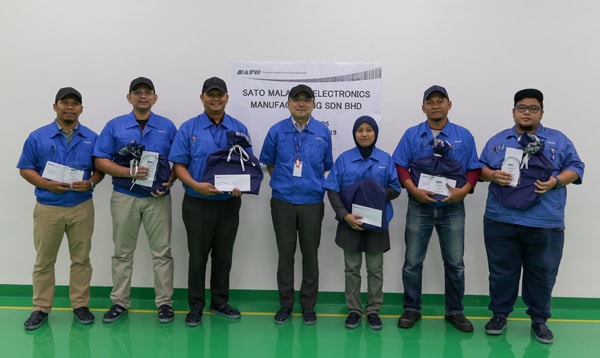 Small changes and actions drive Ceaseless Creativity
Through Teiho, employees develop the awareness that each of them is pitching in for the company and make it a habit to take actions with a sense of ownership. In taking up the small changes triggered by Teiho, we train ourselves to notice issues, consider solutions and take actions.
Top management, on the other end, taps information from Teiho reports to make decisions, drive necessary changes, and monitor their effects for continuous improvements. It is through this process that the executive team can stay on top of the changes and trends the company faces to take anticipatory actions.
Employee opinions reach the management directly; management sees them as they are to initiate small and big changes. Employees would experience the change, recognize that they are involved in the company's management, and be motivated to do more. As such, Teiho integrates the power of individuals and the organization to keep all of us in the Ceaseless Creativity mindset that drives changes and actions at SATO.
History of Teiho
In 1976, the system that would become Teiho was started by our founder, Yo Sato. It originally consisted of handwritten daily reports on B5 size company letterhead.
In 1990 when the second president, Tokuo Fujita, took over, the system was updated to encourage employees to write not out of obligation, but rather to initiate change, which resulted in consistently high submission rates and a big data set of nearly 12 million reports and suggestions. The physical reporting system was switched to an e-mail system in 1999. In 2003, it became a dedicated web system, and now employees can easily post and search the database anytime, anywhere. The Teiho system, which has come to represent the voices of our employees over time, is now being utilized worldwide as an integral part of the company's DNA. This one-of-a-kind tool is a living, breathing part of our corporate culture.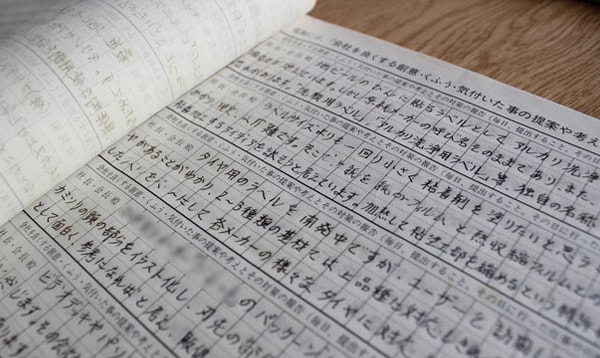 Related pages