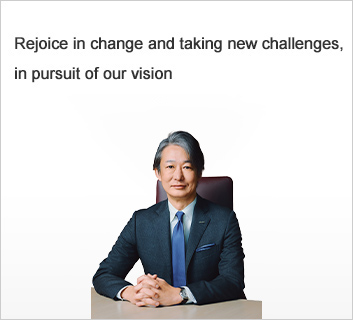 We owe this milestone to all of our customers who have supported us over the years and to our employees and numerous stakeholders who have helped us grow. I express my heartfelt gratitude to you all.
Our company started out as a small factory in the outskirts of Tokyo.
Founder Yo Sato was an inventor, who brought to the market revolutionary products that provided answers to the nagging challenges of the time.In the 1940s, it was a machine that made cargo boxes from bamboo as an alternative to wood that was in short supply. When retail boomed in the 1960s, it was the hand labeler that drastically simplified the process of putting price tags on each and every item in the store. And when computerized point-of-sale systems began to replace mechanical cash registers in the 1980s, it was the world's first thermal transfer barcode printer that brought innovation to the store front. At the heart of it all was our founder's urge to "make things easier" for his immediate customer facing a difficult challenge, and our corporate motto of Ceaseless Creativity, which are both passed down to this day as our company's DNA.
Today, we have offices around the world, with a business presence in over 90 countries and regions. Maintaining our traditional strength in developing and manufacturing products, we now define our core business to be auto-ID solutions: tagging identifier information to everything and anything for traceability that helps businesses "see" their operations. What never changes, though, is how we deliver value with creativity that comes from each and every one of us thinking from the customer's perspective and seeking for solutions with tenacity.
In this world of IoT, 5G and rapid advancements in IT infrastructure where everything needs to be digitized and data is a source of added value, we believe this trend offers a great opportunity as a company that has long specialized in tagging at the front lines of operations. We can help customers maintain quality and traceability of their products, and win greater satisfaction from their consumers. We can give visibility and insight into their productivity, or develop consumer touch points for their brands. What we can offer is only limited by our imagination.
It's this aspiration that we are declaring with our new corporate slogan, "Powered On Site." We serve customers in a wide range of industry and business fields that include retail, manufacturing, logistics and health care, and it's because we are versed in how each of these worksites operate that we can customize solutions, which, amassed over time, should come to create a sustainable world. This conveys our dedication to deliver solutions developed bottom up from users' front lines of operations.We commit to working side-by-side with our customers at their sites of operations, hand-in-hand with partners who share our vision, and step-by-step yet fearless in our challenge to generate innovation that helps businesses succeed and make the world a better place.
I'm excited in where we are headed as we step into our 81st year aiming to keep exceeding expectations with the support of all our valued employees and partners.

Ryutaro Kotaki
President and CEO
SATO Holdings Corporation