Basic concept
We believe that building and continuously strengthening our organizational governance is critical to ensuring the soundness, transparency, and efficiency of company management. This will support our aim to realize sustainable growth and higher corporate value on a medium- to long-term basis under our vision of becoming "the leader and most trusted company in the auto-ID solutions industry worldwide, exceeding customer expectations in an ever-changing world."
In developing a sound foundation for this system, we seek to achieve effective corporate governance for our shareholders and other stakeholders by enhancing functionality of our Audit & Supervisory Board and management oversight of our board of directors which is structured to constitute a majority of independent external directors for a high standard of transparency.
SATO's corporate governance
1 .General meeting of shareholders
Besides submitting proposals about the distribution of earned surplus, election of board members, and other major matters for resolution at the general shareholders' meeting, we regard the meeting as the most important opportunity for us to report on our business performance and engage in direct dialogue with shareholders to deepen their understanding of the company. To this end, we hold the meeting avoiding peak days, and take care to address any feedback or questions raised.
2. Structure and operation of the board of directors
The company employs an audit & supervisory board system and an executive officer system that separate the managerial decision-making and oversight function from the operational execution function so as to expedite decisions on company management.
We named our first external director in 1999, and have appointed multiple individuals to the role since 2002. Given the growing importance of such governance practices, our board of directors is now comprised in majority of external directors, all of whom are registered as independent external directors with the Tokyo Stock Exchange. All five selected external directors (of which two are women) have expert knowledge and extensive experience in diverse fields to support our aims in realizing sustainable growth and higher enterprise value on a medium- to long-term basis.
Our corporate governance history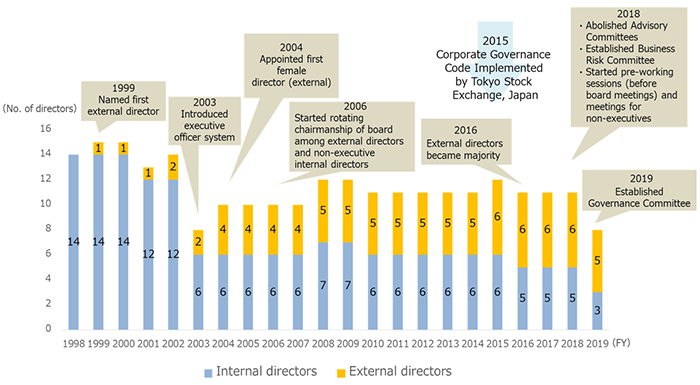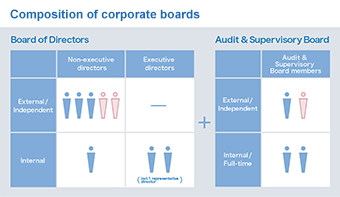 In order to facilitate fair deliberation/discussion, the board does not set hierarchical relationships among directors, and rotates chairmanship among non-executive directors including external directors.
To make board meetings more effective, we have started to conduct regular pre-working sessions (before board meetings), joint meetings for non-executive officers, and business risk committee meetings to foster deeper understanding of business execution as well as to identify, analyze, and continuously monitor business risks.
On the other hand, we have abolished advisory committees for nomination and remuneration as the board has decided and agreed that skipping such processes to discuss related matters directly among its members helps add more speed/perspectives to its decision-making and make it a stronger function. This is considering that our board of directors is already comprised in majority of independent external directors from diverse backgrounds who are capable of offering their involvement/advice as appropriate when reviewing matters related to nomination and remuneration.
Our corporate governance system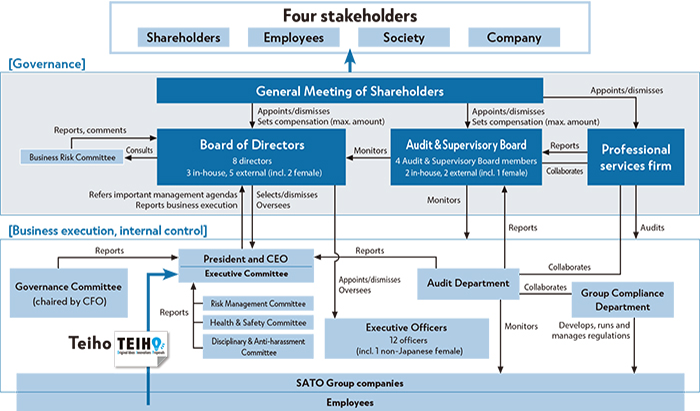 3. Evaluation of the board's effectiveness
The company conducts yearly surveys to analyze and evaluate the effectiveness of our board of directors to check our corporate governance and take appropriate measures to sustainably increase corporate value.
Designed to identify progress in improving the board's effectiveness, the survey consisted of eleven questions covering the following six topics that are based on the previous year, with reference to the Corporate Governance Code (hereinafter "CGC").
(1) Survey themes
Topics evaluated (corresponding CGC principles in parentheses)

a.

Composition of the board (4.8, 4.11)

b.

Operations of the board (4.12)

c.

Roles/responsibilities of the board (4.1, 4.2, 4.3)

d.

System to support the board (4.8, 4.10, 4.13)

e.

Relationship with shareholders (5-1)

f.

Other matters pertaining to overall effectiveness (write-in question)
(2) Summary of results and areas for improvement
a. Composition of the board

The board comprised in majority of external directors is functioning highly effectively in the oversight of senior management.
Diversity is important, and we will strive to maintain and strengthen diversity in external directors.
We will also continue to tackle our challenges to including more internationals and females as internal directors.

b. Operations of the board

More open and constructive discussions are taking place at our board meetings than before.
We aim to take this to the next level by enforcing the thorough use of templates that help improve the quality of meeting materials.
Through the board secretariat, we will also work to better manage progress in preparing meeting agendas to allow sufficient time for board members to read them in advance.

c. Roles/responsibilities of the board

A comprehensive list of matters requiring board discussion has been put together to guide and improve the submission of agendas to the board.
We will make efforts to submit proposed policies/plans for business strategies in a timely manner to link these board meeting agendas more closely to deliberations at executive management meetings.
We will also establish clear decision-making processes for evaluating, appointing/dismissing, and remunerating senior management to maintain effectiveness of board oversight.

d. System to support the board

Board members can readily seek clarifications and receive additional information via available channels, and make important management decisions based on analyses and evaluations conducted in advance by the Business Risk Committee.
To facilitate information sharing with external directors and Audit & Supervisory Board members, we will continue to conduct pre-working sessions (before board meetings) and joint meetings for non-executive officers.
We will also conduct regular opinion exchange/discussion sessions for external officers.

e. Relationship with shareholders

We have been gathering shareholder feedback every six months via IR activities, and will continue to ensure that we receive even the most specific and critical of feedbacks.

f. Other matters pertaining to overall effectiveness

There is room for improvement in how we deliberate/discuss important matters of business execution, particularly those related to our business operations outside Japan.
We will get our executives to submit and provide explanation for necessary agendas in a timely manner to enable stronger board oversight.
「Results Summary for Evaluation of the Effectiveness of our Board of Directors」(PDF:196KB)
4. Remuneration for board members
(1) Matters relating to remuneration policy
The remuneration structure for board members is an extremely important element of corporate governance. Therefore, the company has laid down a policy for deciding remuneration amounts and calculation methods as follows.
a.

Remuneration amount shall be set at a level capable of securing and retaining board members to make important management decisions and supervise business execution.

b.

The company shall establish a remuneration structure that contributes toward sustainable growth and greater medium- to long-term corporate value and resonates with the values of shareholders and other stakeholders.

c.

The board shall set out a logical, fair, and transparent procedure to determining remuneration that the company would comply with.
(2) Procedure to determining remuneration
The board goes through the following steps to deliberate and determine remuneration in a logical, fair, and transparent manner.
Revise basic/performance-based remuneration amount (tied to position) and payment coefficient
= Remuneration level and coefficient shall remain fixed unless there are major changes in conditions.
↓
Draft performance evaluation for fiscal year ended
= The representative director(s) shall assess officers based on business and individual achievements, and his/her assessment be discussed among internal directors for evaluation across multiple dimensions. (Every May)
↓
Approve evaluation and decide performance-based remuneration amount for each officer
= Remuneration shall be decided after checking and ensuring that there are no flaws in the evaluation outcomes and decision-making process. (Every June)
(3) Composition of remuneration
Remuneration for the company's directors consists of basic compensation (fixed monetary sum), performance-based monetary compensation, and performance-based stock compensation.
(4) Weighting of each compensation component
This is decided by considering balance with overall remuneration amount and position of officer, whereby those in higher positions receive a larger ratio of performance-based compensation.
(5) Evaluation benchmarks for performance-related compensation
The two performance-based compensation components are dependent on business and individual achievement. Business achievement is measured by the degree of accomplishment of the consolidated operating income target for performance-based monetary and stock compensation because operating income is considered to be a direct product of business activities. Performance-based stock compensation additionally takes into account the degree of accomplishment of the consolidated EBITDA target as an indicator for intrinsic earning power. Apart from business achievement, the company believes that the individual achievement of officers contribute toward the medium- and long-term growth of its business as well, and should therefore also be reflected in the evaluation for determining performance-based compensation.
(6) Determination of performance-based remuneration
Performance evaluations are discussed with internal directors and checked by the board of directors that is comprised in majority of independent external directors before they can be used in determining performance-based remuneration, as set out in the procedure chart pictured above.
5. Appointment and dismissal of directors, etc.
(1) Policy
The company's policy is to select via a transparent process candidates who are able to actively contribute to the board's managerial decision-making and oversight function with their extensive experience/expertise and excellent character/discernment.
(2) Criteria
Appointment/selection criteria are as follows.
a. Candidates for internal director or executive leader such as president
Candidates need to be executive officers who possess the following experience, skills and attributes.
Strategic judgment from a medium- to long-term perspective (ability to get to the essence of matters, think critically, and have foresight and decisiveness)
Leadership qualities to unite the organization and carry through radical changes (ability to lead collaboration, innovation, and talent development toward results)
High ethical standards and accountability toward the company and society (integrity, acumen, alignment with corporate values, and impartiality)
Strong sense of independence and awareness of problems (pertaining to market, business, company resources, and self-improvement)
Sufficient industry experience/knowledge and abundant mental/physical strength (work performance and personal health). Candidates for president, for example, must also have an outstanding track record of delivering results in addition to the above.
b. Candidates for external director
Candidates need to meet the following requirements, and be chosen from diverse fields of specialization (such as business management, academia, law, or finance). The number of external directors must account for majority of the board for proper governance.
Able to get to the essence of matters and raise issues to management in a rigorous manner
Able to place priority on attending the company's board meetings and committing to board duties
(3) Appointment/selection process
A list of qualified candidates is prepared and submitted to the board for deliberation.
When selecting executive leaders, the board bases its deliberation on the feedback and consensus of internal directors. Selected candidates are required to report their duties regularly to the board and be evaluated across multiple dimensions for performance monitoring.
For internal directors, the candidate list is prepared with the advice of external officers.
For external directors, the candidate list is prepared based on recommendations made by internal and external officers after discussing them among internal directors.
(4) Dismissal process
For executive leaders, they can be dismissed upon consent by the board if there is objective evidence or other reasons to suggest that they are deviating materially from the appointment/selection criteria. Similarly for directors, they will not be nominated for election or reelection at the next general meeting of shareholders if they are deemed to not fully meet the criteria.
With the aforementioned policies/requirements and processes, we work to maintain and strengthen the effectiveness of our corporate governance.
6. Audit checks
(1) By Audit & Supervisory Board
The company has an Audit & Supervisory Board, which consists of four members (including 2 external members). Audit & Supervisory Board members attend board of directors meetings to ensure that the conduct of all directors is compliant with laws/regulations and the Articles of Incorporation while also attending other important in-house meetings such as executive management meetings where they audit/supervise different decision-making processes and resolutions reached, expressing their opinions when necessary. Members undertake a wide range of other activities, including verifying the readiness/operation of internal controls, examining the financial reporting system, reviewing various report materials, and checking the independence and audit quality of the company's accounting auditor (audit firm). In addition, they work with the audit firm to receive quarterly audit/review reports, exchange opinions and gather information as required to create an environment conducive to proper auditing. They also work with our auditor office to regularly receive internal audit results and internal control evaluations concerning financial reporting to perform assessments across multiple dimensions.
(2) Audit & Supervisory Board meetings
At Audit & Supervisory Board meetings, deliberations primarily focus on the Japan headquarters' governance of its overseas subsidiaries or merged/acquired businesses with regard to their startup operations or level of integration with corporate strategies. In these instances, the Audit & Supervisory Board analyzes quantitative and qualitative information that it receives from overseas headquarters and finance & accounting departments to check for proper handling of issues. If there are areas for improvement, the board provides feedback to the management team and requests the company's executives to take actions accordingly.
(3) Activities of full-time Audit & Supervisory Board members
Full-time Audit & Supervisory Board members help the board function effectively by conducting audit activities on subjects with accurate, on-site information and sharing necessary reports with external members on the same board for them to provide opinions for discussion based on their respective professional knowledge and objective perspectives. They contribute to the sound and sustainable development of the company in partnership with our accounting auditor and auditor office.
(4) By internal audit department
Our auditor office (six members), which reports directly to the company president, is responsible for performing internal audits to provide objective, independent reviews for assurance and advisory oversight. Based on internal audit plans set at the beginning of the fiscal year, the auditor office audits operations at our business locations in Japan and overseas to evaluate their various management activities related to governance, risk management, and control processes to identify areas of possible improvement. The office submits its reports to the president who then instructs relevant managers/departments to make improvements and report back accordingly. It also shares these internal audit results regularly with the Audit & Supervisory Board.
(5) By accounting auditor
The company receives accounting audits from professional services firm PwC Aarata LLC, in compliance with provisions of the Companies Act and Financial Instruments and Exchange Act. There exist no material relationships of interest between the company and the audit firm or its personnel conducting our accounting audits that need to be reported under the Certified Public Accountants Act.
7. Tax policy
We have formulated this tax policy to guide our internal practices and ensure tax compliance.
Basic policy
Our vision is to become "the leader and most trusted company in the auto-ID solutions industry worldwide, exceeding customer expectations in an ever-changing world." In other words, we aim to maximize sustainable company value with the trust of our customers and other stakeholders.
To achieve our vision, we must have in place the necessary systems/operations for proper tax compliance and raise awareness among all employees to ensure we adhere to tax laws and regulations in all countries we operate.
(1) Legal compliance
We comply with the local and International tax laws and standards applicable in each country to ensure that we conduct all business activities in a proper and compliant manner.
(2) Tax risk management
We give due consideration to tax compliance risks in advance and seek professional advice where necessary, minimizing any uncertainties in meeting our taxation obligations to ensure that we maximize sustainable company value with the trust of our stakeholders.
(3) Preventing of tax evasion
We engage in tax planning to ensure the company is properly taxed, tax information is reported and taxes are paid to the appropriate authorities in each country. This allows us to maximize sustainable company value with the trust of our stakeholders.
The company does not engage in tax planning for intentional tax avoidance that involves shifting profits to low-tax countries where we do not generate economic benefits.
(4) Relationship with tax authorities
We make all efforts possible to provide related information to taxing authorities in each country in a timely, compliant and professional manner, as required.
8. Other practices for supporting corporate governance
(1) Teiho
Introduced in 1976, Teiho is SATO's very own system for employees to submit short daily reports (written within a set word count) about new information or ideas derived from work and interactions with customers directly to top management, with the objective of bettering the company.
The Teiho system is an important pillar of our corporate culture that helps top management stay at the forefront of situations inside and outside the company to facilitate quick decision-making and actions, while allowing employees to think and take part in running the company from the management's perspective. And as everyone regardless of rank or years of service participates, it serves as a form of monitoring to prevent misconduct or fraudulent behaviors for effective compliance.
(2) Business Risk Committee
Under our Basic Policy on Internal Control to ensure effective corporate governance and sound business operations, we have established a Business Risk Committee which reports directly to the board of directors to identify, analyze, and continuously monitor risks that the company would take in driving business when making investments and loans, acquiring and disposing of stock and fixed assets, entering into business partnerships or important agreements, and selling/buying businesses. The committee conducts intensive analyses and evaluations on a case-by-case basis to help the board review and make important management decisions.
(3) Governance Committee
We have newly established a Governance Committee under the CFO, as a cross-functional team to develop and drive strategies for strengthening the governance of SATO group companies outside Japan. This is because we believe that growing our business sustainably for greater corporate value requires not just driving sales activities robustly but also reinforcing internal support/controls and managing risks. Being a global company, risk management is key to ensuring the transparency and reliability of our subsidiaries that operate in countries where cultures, business practices and social environments differ vastly from Japan.
The committee will work with subsidiaries outside Japan to train their corporate managers in the basics of business operations, get them familiarized with their articles of incorporation, regulations, and business management/operating rules, put in place systems to visualize their financial and non-financial information, and build up a framework for Japan to better monitor them.
(4) Group Compliance Department
The Group Compliance Department works with administrative departments in the SATO Group to set operating standards, ensure compliance with existing rules, and provide support for improvement from the perspective of group-wide optimization.
(5) Risk Management Committee
The Risk Management Committee identifies risks associated with natural disasters, accidents, and other unforeseen circumstances that would significantly harm our business value, and draws up countermeasures for such risks should they occur.
(6) External reporting channels
Employees can report governance failures or compliance breaches with anonymity via channels that are set up at external law firms and managed by the Audit & Supervisory Board.
Corporate Governance Report
The latest corporate governance report can be found here.