What we envision
The SATO Group puts contributing to society through business — the aspiration of company founder, Yo Sato — at the heart of our corporate values, and seeks to realize this under our corporate motto of Ceaseless Creativity.
People enjoy better standards of living than ever, but this comes at serious cost to the environment as sustainable maintenance of nature itself is under threat. SATO recognizes that decarbonization, the circular use of resources and maintenance of biodiversity are urgent priorities for society. Thus, we continuously strive to contribute to a more sustainable world through our business with Ceaseless Creativity.
Contributing to society through our business
SATO's history began with hand labelers that tag price labels to retail goods. We have since been engaged in what we term "tagging," drawing on a range of auto-ID technologies including barcodes, 2D codes, RFID, location tracking and sensors, and honing how we tag information to each 'thing' to capture its attributes, status, location and movement to make good use of this data.
Through tagging, we help businesses ensure accuracy, save labor and resources, offer reassurance, enable sustainable practices and build emotional connections. Providing this value to society through our business is our legacy and always at the core of what we do.
Our policy for decarbonization
We aim to reduce greenhouse gas emissions, including carbon dioxide, not only from our own operations (Scope 1 and 2) but also from our supply chain (Scope 3) by sharing expertise in decarbonization with suppliers.
We also help customers reduce emissions at their worksites through the products and solutions we provide.
Our carbon neutrality declaration
FY 2030 target
Reduce Scope 1 and 2 emissions globally by 50 percent from FY 2016 levels.
*We will provide progress updates as part of our external reporting, including in our annual Integrated Report.
FY 2050 target
Reach net zero by using carbon removal credits to offset Scope 1 and 2 residual emissions.
*Based on FY 2016 data, these unavoidable emissions are estimated at about 10 percent of our total Scope 1 and 2 emissions.

Actions for reducing Scope 1 and 2 emissions
(1) Expand use of renewable energy
Install solar panels and other renewable energy generating systems
Lower the emission factor for purchased electricity by contracting with renewable energy providers
Increase renewable fuels, resources and heat consumption
Make strategic use of renewable energy certificates
(2) Promote energy efficiency and conservation
Introduce energy-efficient facilities
Streamline our internal value chain, with a focus on the production process
Switch to biofuels
Replace company cars with eco-friendly vehicles

Target and plan for Scope 3 emissions
FY 2030 target
Reduce emissions by 30 percent from FY 2021 levels. (Japan only)
Plan
Take the following actions on three emission categories that account for 97 percent of our total Scope 3 emissions in FY 2021.
Category 1: Purchased goods and services
Engage and collaborate with suppliers for green procurement of product materials and components
Use refurbished components
Category 11: Use of sold products
Make and sell products that use less energy
Category 12: End-of-life treatment of sold products
Commitment to realizing a decarbonized society
We help customers reduce greenhouse gas emissions at their worksites (also known as Scope 4) through the products and solutions we provide.
Examples of what SATO's solution can do
Automate manual tasks to save workers time
Reduce food waste and other kinds of waste
Quantifying the decarbonizing impact of our solution
Use a consistent methodology to calculate emissions that can be avoided from using our solution
Assess total avoided emissions of all solutions sold (Planned)
Long-term target
Add Scope 3 and 4 emissions to our carbon neutrality plan and aim to become carbon negative
Changing how we present the value of our solution
SATO provides a variety of solutions that improve productivity for our customers. We have started using data, for example, on the total worker-hour savings that our automation solution can enable to assess and present its decarbonizing impact* as new added value to customers.
*Avoided emissions are calculated using worker-hour savings and an emission factor associated with the customer's industry, and do not guarantee the amount of actual reduction. This calculation method was developed under supervision of relevant authorities and experts.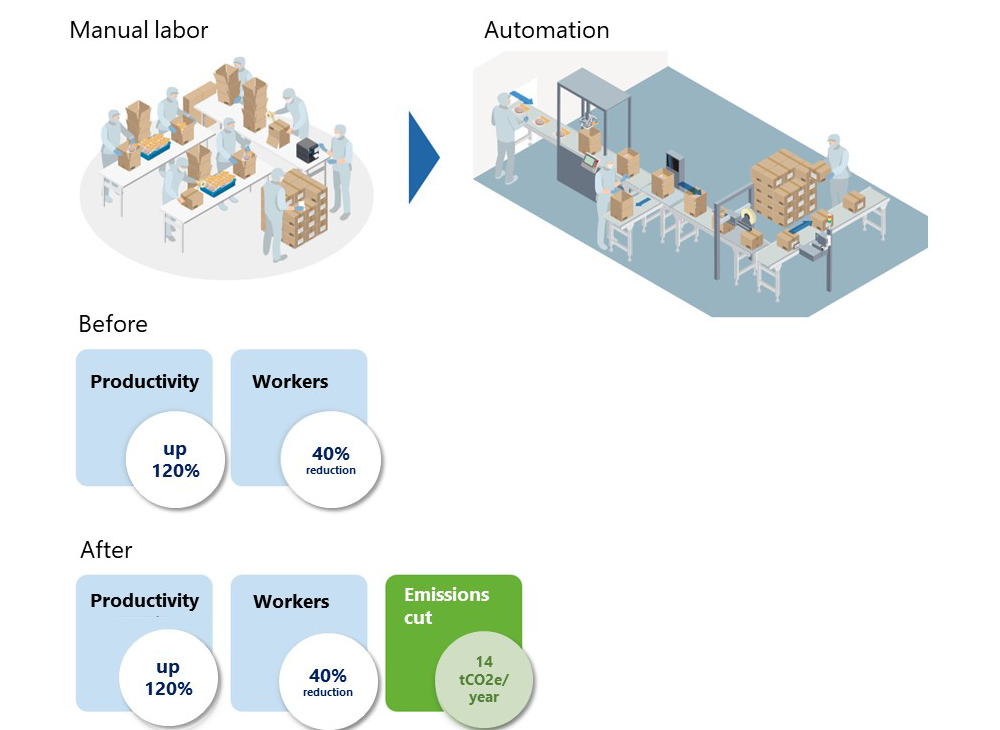 1.

Scope 1 covers direct emissions from company-owned sources (e.g., emissions associated with fuel combustion or industrial processes).

2.

Scope 2 covers indirect emissions from the consumption of purchased energy including electricity, heat and steam.

3.

Scope 3 refers to emissions indirectly linked to the company through its value chain; it includes all sources not within Scope 1 or 2.