Reducing CO2 emissions is essential to tackling global warming and making our society sustainable. To fulfill our responsibility, we have set a goal to reduce CO2 emissions in FY 2030 by 26 percent of FY 2013 figures as we continue to develop eco-friendly products/services, utilize new, power-saving equipment, and use renewable energy sources.
Medium- to long-term targets and their progress
Areas of contribution
Scroll right for more
For Scope 1 & Scope 2 CO2 emissions
Key indicators

In Japan

Comparison to CO2 emission figures for FY2013 (t-CO2)

FY2018 results
8% reduction
FY2019 results
3.7% reduction
FY2020 target
11% reduction
FY2030 target
26% reduction
*

Scope 1: Direct emissions from the company

*

Scope 2: Indirect emissions from energy purchased
Energy self-sufficiency via solar panels
In 2018, SATO joined Japan Climate Leaders' Partnership (JCLP) as a supporting member to help tackle climate change by reducing CO2 emissions. JCLP is a group of Japanese companies sharing the common understanding that the industrial sector should take actions to realize a sustainable, decarbonized society with a sense of urgency. Through JCLP, we were able to link up with a photovoltaic system provider (also a supporting member) to install solar panels at Kitakami Operations, our factory in Iwate, Japan. Beginning operation in September 2020, this solar power system is expected to generate about 220,000 kWh of electricity per year to reduce emissions by about 115 metric tons annually.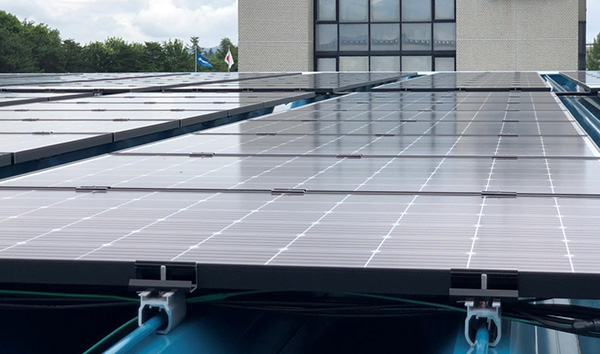 Eco-friendly products
SATO linerless labels not only cut the use of wood pulp, but also shorten production time and reduce waste (liner), conserving energy used. A roll of linerless labels can hold 40 percent more labels than common labels with release liner.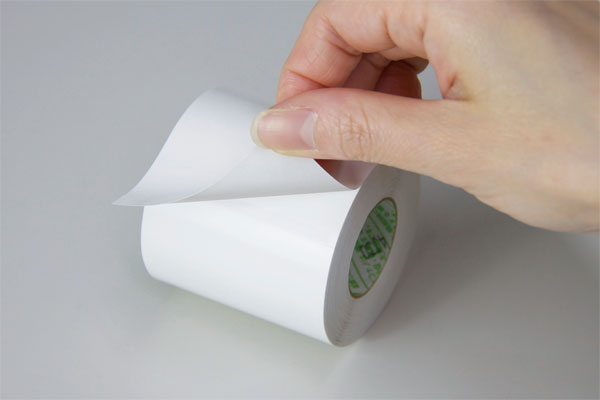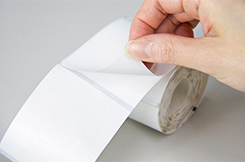 Green procurement
The SATO Group now sees procurement from environmental perspectives as, in 2007, it set up its own SATO Green Factory (SGF) certification based on the ISO 14001 environmental management standard. We ask business partners who have yet to acquire ISO 14001 certification to comply with SGF standards, while we provide support on accreditation and regular audits. SGF assesses partners on whether or not they (1) have an environment policy, (2) monitor environmental impact (power usage, waste emissions), (3) promote environmental activities, and (4) comply with related laws.
Renewable energy sources
In October 2020, we contracted a renewable power provider for Kitakami Operations where we develop and manufacture specialty barcode printers and manufacture labels and stickers. This helps Kitakami further cut its CO₂ emissions by about 1,214 metric tons annually and achieve 100 percent renewable energy (net-zero emissions after carbon credits and other adjustments are taken into account). Our next step is to get other SATO sites to switch to renewable energy sources as well.
LED lighting for logistics centers
In 2019 we began installing energy efficient LEDs at our two logistics centers in Japan (Saitama and Nara) which was completed in February 2021. This translates to an emissions reduction of about 86 metric tons annually.