Argox Information Co., Ltd. (hereafter Argox), was honored with the Inspirational Brand Award by Enterprise Asia at its Asia Pacific Enterprise Awards (APEA) 2022. Enterprise Asia selected Argox for outstanding performance and tenacity in developing successful business, in relation to policies to enhance ESG in its internal processes.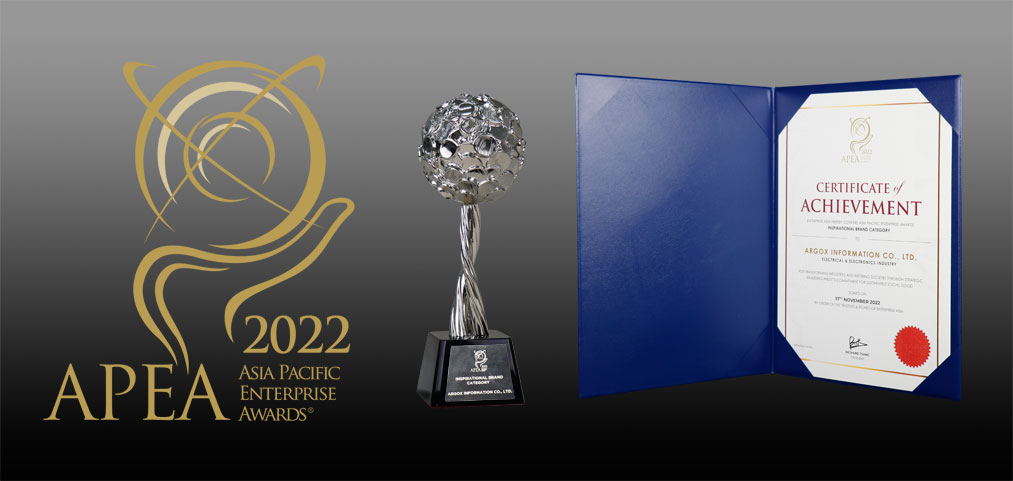 For environmental efforts, Argox was certified with the ISO 14001 environmental management system. For governance, the Teiho system and Argox's Continuous Improvement Process (ACIP) policy and budget workshops allow employees to join in the running of the company. Argox's relocation in 2022 helped integrate the factory and office through removal of all partitions. This made communications between departments more efficient and represent the company's brand transformation.
Organized annually across 16 countries and markets, the APEA is an award recognition program recognizing entrepreneurial excellence across Asia. It honors outstanding business leaders and enterprises in the region and seeks to foster sustainable entrepreneurial growth in the region in one unparalleled platform. APEA was launched in 2007 and this is Argox's first APEA award.
Awarded to market-ready brands with measurable metrics and an annual turnover of USD 2 million or more, the Inspirational Brand Award recognizes transformational brands that seek to promote goodness, wellness and/or sustainability – the 'heroes' within the brand universe.
Argox, a Taiwan-based SATO Group company, manufactures and markets label printers, barcode scanners, and mobile computers. Known worldwide, Argox products are sold in over 70 countries.
Related content
The SATO Group's policy on sustainability
SATO's Teiho: Small changes in the spirit of Ceaseless Creativity