SATO, a leading global provider of Auto-ID solutions that empower workforces and streamline operations, announced it appointed Shinichi Takagi as Head of Investor Relations, a newly created role.
As Head of IR operations, Takagi will engage with both Japanese and global investors. He will be based at the SATO headquarters in Tokyo.
Takagi brings global IR experience from his previous role overseeing European investor relations at Nidec, where he was based out of London. He had previously worked in FOREX and market specific risk management at Mizuho Bank.
"My mission at SATO is to build trust with the investment community through consistent two-way engagement," explained Shinichi Takagi. "I will build a two-way dialogue to learn the intentions of our investors. This involves accurate and timely communications from my side and also listening to constructive proposals from the investors' side."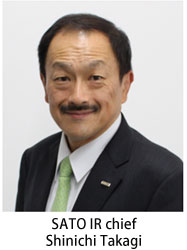 "Shinichi brings a wealth of expertise in investor relations and the financial sector," said Kaz Matsuyama, President and CEO of SATO Holdings. "I have high hopes he can help us boost our presence in the investment world both in and outside of Japan as we pursue global business growth."