SATO Corporation and SATO Healthcare Co., Ltd. launched an ink ribbon recycling scheme for the collection and recycling of used ink ribbons as solid fuel Refuse derived Paper and Plastics densified Fuel (RPF) for customers in Japan. By recycling ink ribbons as raw materials for RPF, which emits less CO2 when burned compared to coal, SATO aims to promote decarbonization and recycling of resources.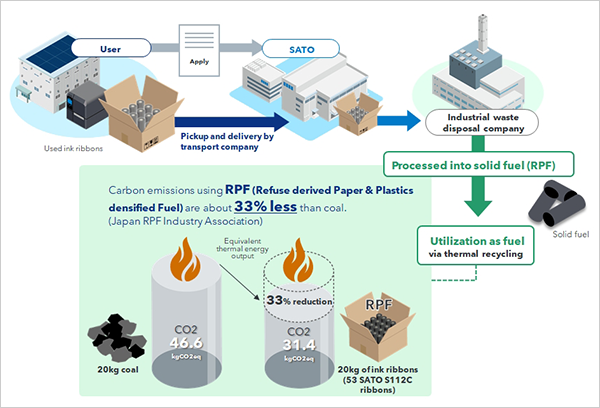 The ink ribbons to be recycled are those used in thermal transfer printers manufactured and sold by the SATO Group in Japan. The printer's thermal head applies heat to the ink ribbon to transfer/print information onto the label.
Ink ribbons are suitable for labeling applications requiring high durability. However, these ribbons are primarily made from plastic, and are typically disposed of as industrial waste after use. In Japan, 37.82 million tons of greenhouse gases (CO2 equivalent) are emitted annually through incineration1 of industrial waste. SATO Corporation and SATO Healthcare decided to offer this service due to the nature of their business, which involve thermal transfer printers and consumables (ink ribbons and labels).
Used ink ribbons in the customer's possession are collected2 and converted into RPF by Japan Waste Co., Ltd. at no cost to SATO customers.
RPF is a fuel made from waste materials. Compared to coal, it reduces CO2 emissions approximately 33%3 and is a recycled fuel that meets the needs of a decarbonized society. In addition, the ashing rate4 for RPF is about one-third that of coal, which can be expected to reduce the amount of ash disposed of in landfills. The RPF produced through this service will be used mainly by paper companies in the production of paper products.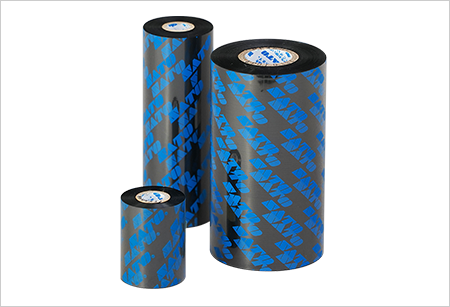 1.

"Global Warming Countermeasures in the Waste Management Sector" (2021), Environmental Restoration and Resource Recycling Bureau, Ministry of the Environment.

2.

Minimum amount required for collection: 10kg.

3.

Source: "Environmental Impact Reduction Effects of RPF Use," RPF Association of Japan.

4.

The percentage of ash remaining after combustion

All company names and product names are trademarks or registered trademarks of their respective companies.
Related info