SATO Corporation, a leader in next-generation automatic identification and labeling solutions, has joined J-ECOL (Japan Earth Conscious Labeling Association) an industry association set up to promote the recycling of used label and sticker release liners.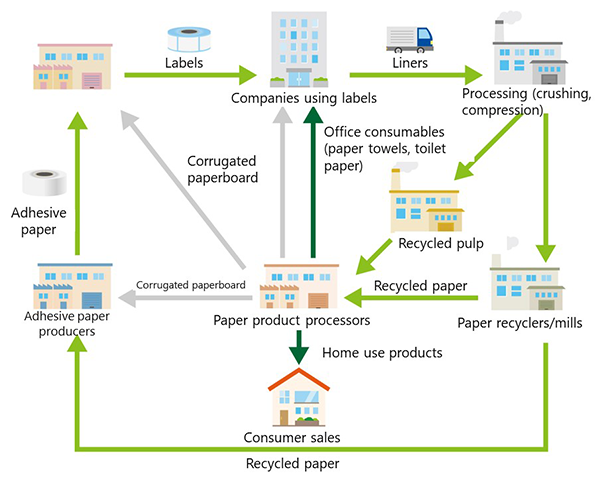 Stickers and labels are an indispensable part of everyday life for businesses and consumers alike as a means to give items added information. Most labels come with backing liners for protecting their sticky surfaces. After use, these liners typically end up as waste because they are difficult to recycle into raw material for papermaking. As businesses join the circular economy, SATO will promote liner recycling through J-ECOL to reduce the environmental impact and keep labels affordable and accessible in a sustainable future.
SATO is working with the Japan labeling industry to build a recycling model that integrates all companies involved in the value chain (procurement, manufacturing, sales, and collection).
Specifically, we will support resource recycling by acting as an intermediary between companies that provide used release paper (companies that use labels) and recycling companies. SATO will work with J-ECOL members, through two subgroups for promotion and technical matters. The promotion group will promote the recycling of liners while the technical group will study easily recyclable liner paper and propose ways to recycle pulp extracted from the liners. In the future, it will study the horizontal recycling of used liners for reuse as new liners.
List of J-ECOL members
(in alphabetical order, as of August 31, 2023)
Avery Dennison Japan
DIPRO CO., LTD.
DNP Datatechno Co., Ltd.
Japan Pulp & Paper Co., Ltd.
LINTEC Corporation
Murata Manufacturing Co., Ltd.
NIPPON PAPER INDUSTRIES CO., LTD.
Oji Tac Co., Ltd.
OSP Osaka Sealing Printing Co., Ltd.
ROHTO Pharmaceutical Co.,Ltd.
SATO Corporation
TOPPAN Edge Inc.
TOPPAN INFOMEDIA CO., LTD.
Yamada Yoji Shoten Co., Ltd.
Overview of J-ECOL
Outline of J-ECOL
(Japan Earth Conscious Labeling Association)
Location
Tokyo Sticker Printing Hall 3F, 2-25-4 Kita-Ueno, Taito-ku, Tokyo
Representative Director
Tetsuya Takashima
Established
May 2023
Main activities

(1)

Recycling of used release liner paper and promotion efforts

-

Establishment of waste sorting guidelines and promotion of sorting among member companies

-

Consulting on the recycling of used liner paper, and the introduction of label users to recycling companies

(2)

Support for establishment of recycling technology

-

Assistance in designing easy-to-recycle release liners and promoting recycling

(3)

Provide information on liner recycling

-

Visualization of the environmental impact of liners and sharing information on the progress of recycling efforts

Website (Japanese only)
https://www.j-ecol.or.jp/
Related info