Exceeding customer expectations with a uniquely SATO solution
SATO solves on-site operational pain points for its customers across many industries, providing auto-ID solutions centered on barcode label printers. Middle-range printers particularly have a large presence in the market and are our focal area for product development and functional enhancement. We began development of our new middle-range CL4NX printer in 2012 with an aim to capture market share worldwide. This reflected the company's medium-term management plan that had laid out "globalization and maximization of customer value" as its basic strategy, steering toward opening up new sales channels in markets around the world to foster growth. Let's hear from the project leader at the time about the birth of this iconic product line.
CL4NX
The CL4NX is an industrial thermal barcode and RFID printer that was launched in April 2014. Conceived to "exceed expectations," it features a universal design and functionality that anyone can use with ease anywhere in the world, regardless of work environment, language or infrastructure. In January 2020, the line was refreshed with an updated model, the CL4NX Plus.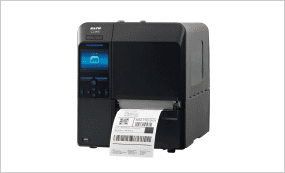 A project team with a singular focus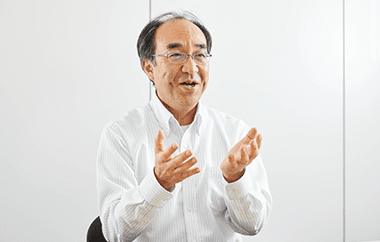 Prior to 2012, SATO's products for the global market were simply those developed for Japan rolled out abroad. They would be localized for each country with necessary certifications and legal applications, but they were obviously not made from hearing out the needs of each country. It's hard to believe today, but I had sometimes heard the local opinions and complaints for the first time after a product was launched outside Japan. That's why, with this project, we decided to change our mindset and take up the challenge of developing a new, industrial label printer from a global perspective, to meet the needs of customers worldwide in a highly competitive product category.
The first thing that had to change to make us more global was our team formation. We brought sales departments worldwide, production and quality evaluation departments, members of overseas subsidiaries, and our development team in Sweden together to form a project team unlike anything we had ever formed. As a result, we learned from the product development stage customer needs and requests from worksites around the world, which we realized had been overlooked in the past.
And it was around this time that a manager who had long been in charge of sales was put in charge of R&D. As one who understood the customer, he had always told us, "It's not so much the technology as it is about the needs of the worksite and how customers use it." This became our mantra, and as it spread throughout the team, we were asking ourselves more and more, "Is this feature really for the customer?"
Pursuing universality
We were strongly committed to ensuring that the needs of global users went into the development of the CL4NX, but trying to fulfill all requests would lead to project bloat, affecting cost and schedule. After giving a lot of thought into how I would manage this balance, I decided to define "universal design" and what makes the printer truly universal, instead of simply accommodating the requirements of a certain market. A "common solution" may sound a bit grandiose, but was what I decided we would pursue.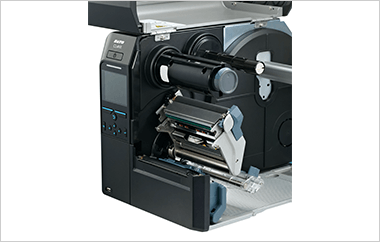 The thermal head, for example, is a crucial part of a printer that is opened and closed frequently. I've heard users in other countries say they often get their fingers caught when replacing these heads. We've made many minor improvements, but we finally decided to change the specification to make the head open wide for easy to reach maintenance for anyone in any installation environment. Another consideration we made was in developing a print program, where we set the standard on consumables that are most versatile or distinctive, as we don't always know what kind of labels and ribbons people use around the world. And as for language, we made printing possible in 47 languages.
Common throughout these cases was our close attention to making the hardware be used in any situation or environment. By taking it to this extreme, we began to believe that the printer could be used anywhere around the world.
An inquiring mind looking forward to exceed expectations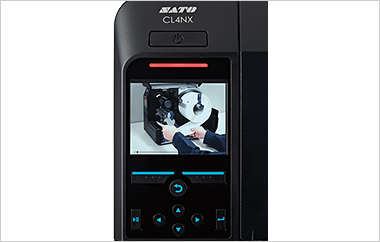 Eventually, team members came up with many ideas on features that could be added or anticipate major changes coming in the near future. Our product development strategy expanded beyond solving problems at the worksite to trying out new ideas that exceed customer expectations.
In addition to improving the functions of the printer itself, our aim was to turn it into a "printing solution" that runs seamlessly with a variety of applications and services. To achieve this versatility, we needed to install a Linux OS in addition to the conventional printer OS. It was our first time using Linux, and there was no precedent in the label printer industry at the time, so we hired extra technicians, sought external resources and expertise, and explored all kinds of scenarios to ultimately equip the printer with two CPUs. And to make the most of this function, we gave it an easy-to-read, full-color LCD display, which opened up the possibility to playing back tutorial videos, which was new at the time. Today, these features are standard on all new SATO products. The added function of preventative maintenance, which was the prototype of our SOS (SATO Online Services) IoT maintenance solution, was also developed and realized in this project.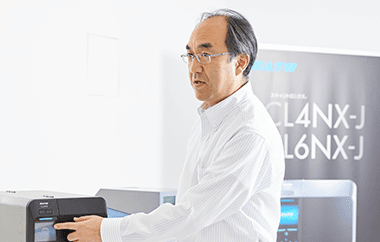 In retrospect, the project may seem like it went smoothly, but there were a lot of hardships that we overcame facing up to the challenges unique to product development and to fulfilling responsibilities. The most prominent of these was a defect found just before entering mass production three months to product launch. The rubber platen roller that drove printed labels though the printer was scraping away due to friction. It was a problem that occurred during the process of changing specifications to develop an overwhelmingly durable head. Regional sales had already begun pre-sales for the April release, and there was no turning back. Changing the platen also changes the quality of the print, which was a key essence of this project. And so started our toils. We made nine new platen rollers in two weeks. We ran endurance tests and evaluated print quality repeatedly for each of the nine types. We kept multiple printers running 24 hours a day for verification tests that lasted two months. We'd come to work early every morning praying that the head has held up, only to find that it hasn't, and we'd do it all over again. But all this hard work and persistence ultimately paid off, which I believe owes to SATO's on-site capabilities (genbaryoku) and pride in delivering a new product without delaying its launch but exceeding expectations. This was how we successfully released CL4NX in the spring of 2014.
Demonstrating SATO's unique value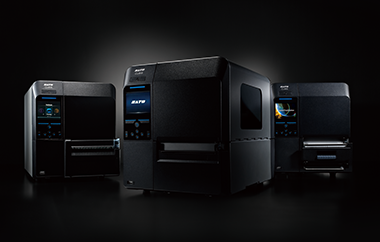 Our pursuit for universality led us to the concept of "Simple & Solid." Intuitive design and ruggedness to withstand any workplace environment was key in developing the various functions of CL4NX, and is now a common theme for all product development at SATO.
Another take-away from this project was learning that we can create an "amazing and exciting" product only when we take a fully customer-centric perspective. Our customers work in various environments that could be dusty or under the influence of sea breeze where parts are easily corroded. If we had only a developer's point of view, our printer — even with the best concept and specs — still would have been difficult to use. Customers were surprised how much attention was paid to the small but important details that answered to their expectations for durability in their harsh work environments. After hearing these responses after the release, I was fully confident that we have what it takes to be customer-centric.
We want to exceed customer expectations. That's why, from this project on, we have developed a habit of bringing sales and R&D teams together from the product planning phase, and having everyone think, "What's in it for the customer?" The new and improved CL4NX Plus that we just launched in 2020 incorporates more voices from the front lines of operations. I'm sure we'll hear more new comments on this new model as well, but I'm confident we can keep meeting them. There's no end to our pursuit of customer value. We will continue to take on challenges and demonstrate the unique value SATO has to offer.
Profile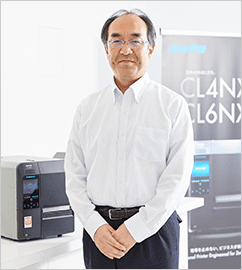 Osamu Fukuzawa

Deputy Executive General Manager, Value Creation (R&D) Headquarters, SATO Corporation
Having specialized in R&D throughout his professional career spent entirely at SATO, Fukuzawa led the CL4NX development project that started in 2012. Currently in product planning, he is responsible for market research, providing information indispensable for development and serving as a bridge between sales and R&D teams.