SATO Holdings Corporation announces that its consolidated subsidiary SATO International America, Inc. has acquired Stafford Press, Inc., a Redmond, Washington-based company. Stafford Press is a pioneer and market leader in the on-demand tag and labels business for inkjet color on-demand horticulture tag and labels market in North America. The acquisition positions SATO to deliver on-demand tag and label solutions to other industries as well.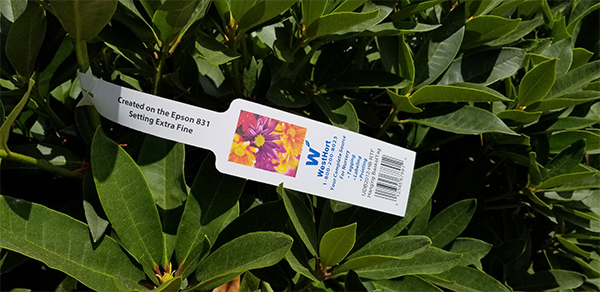 Color barcode picture tag for horticulture
Established in 1992, Stafford Press is a pioneer in the field of inkjet horticulture tagging and labeling, boasting the highest market share and a strong customer base in the United States. The retail vertical market, which includes horticulture, is a key focus for SATO's U.S business, and the company has been providing barcode labels and printers to this segment since 2006.
The acquisition aligns with SATO's investment strategy within its current medium-term business plan to solidify its business footing in overseas markets for sustainable growth. There are three main objectives to the deal. Firstly, SATO aims to further expand its horticulture label business in North America. Secondly, SATO aims to add inkjet printing as a new option to its existing range of thermal, laser and RFID-based horticulture labeling and tagging solutions. Lastly, SATO will further grow its auto-ID solutions business by establishing a labeling manufacturing base on the west coast.
Steve Sundstrom said, "Stafford Press is an excellent addition to the SATO family. They complement SATO America's business, provide new avenues & markets for growth, and provide us coverage on the west coast. Dave and Kim Long have built a great company with a great team at Stafford and I believe they will fit well with our business and provide significant growth opportunities."
Stafford Press, which comprises label and tag printing brands SameDay and WestHort, will be operated alongside SATO America, LLC, as it is integrated into SATO. SATO America president Steve Sundstrom will oversee the newly acquired company.