SATO Holdings Corporation (TOKYO: 6287), the corporate strategy, planning and administrative unit of the SATO Group, today with Nakadai Holdings Co., Ltd., a company working to realize a circular society, announced a collaboration on the development and rollout of a traceability system for recycled materials. By visualizing waste processes from collection to treatment and production, the scheme aims to realize a circular economy.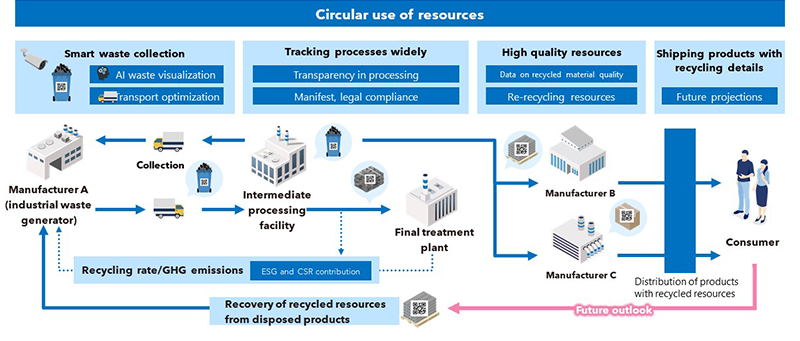 The companies are collaborating on the development and practical application of a traceability system to ensure a stable supply of high-quality recycled materials as a domestic resource by visualizing the series of processes from waste collection to treatment and production of recycled materials. By doing so, the scheme aims to treat waste and recycle used products in a smarter way. Tests are being conducted to verify feasibility of the system at Nakadai's Maebashi recycling plant in Gunma, Japan, where it treats industrial waste.
To achieve a sustainable society, products must be recycled after use and turned into resources rather than waste. However, at many waste sites, the timing of disposal and amount of waste is unknown in advance and tends to fluctuate, making it difficult to plan for collection and disposal. In order to realize a circular economy, used items needs to be recycled stably in determined amounts so that recycled materials may be used as a domestic resource. However, the reality is that data on production processes and quality (i.e., traceability) has not yet been visualized, and the uncertainty about the supply and quality has become a factor preventing industry and society from shifting to a circular economy.
Through our waste traceability initiative, we will examine the feasibility of two points:
(1) Smart waste collection and storage

Cameras are installed at waste storage sites of companies outsourcing waste treatment to Nakadai, and we will visualize the status of waste collection using AI tools for optimal vehicle dispatch and collection planning.

(2) Visualizing processes from treatment to production of recycled materials at Nakadai's recycling plant

Collected waste is assigned an ID in advance. The ID is linked to each process at Nakadai's recycling plant, from receipt to treatment and production of recycled materials. Traceability data of treatment and production processes is collected.
This optimizes both the collection, storage, sorting, and transportation of waste to be utilized as recycled materials and the treatment process to produce recycled materials from waste after delivery to the plant. By doing so, it realizes stable supply, quantity and quality of recycled materials. Furthermore, information such as recycling rate and GHG emissions generated in the waste treatment process will also be visualized and shared with relevant parties for use in the development of easily recyclable products, corporate ESG information, and future purposes including Digital Product Passport1.
In order to implement the results of this concept widely, the verification process will be expanded to Circular Park Kyushu Co. In addition to the Kyushu Electric Power Group, Circular Park Kyushu will collaborate with Satsumasendai City, Kagoshima University, and a number of companies across different industries, including manufacturers, retailers, and distributors aiming for resource recycling. By combining SATO's existing technologies with the resource recycling technologies cultivated here to realize a circular economy, SATO plans to visualize and systematize all information and processes from resource procurement to disposal to realize a circular economy.
SATO will newly apply its experience in supporting the establishment of traceability for food and pharmaceutical products through solutions using AIDC technologies such as barcodes and RFID to the field of waste management. Nakadai Holdings operates a comprehensive recycling business and has a long track record in industrial waste disposal with a high recycling rate of 99 percent. In addition to waste collection, Nakadai Holdings is pushing the recycling business forward by reviewing disposal costs and developing a consulting business to create new ways to reuse items no longer needed.
SATO and Nakadai will combine their expertise to jointly create new ways to solve industry issues in waste treatment and distribution, working toward the realization of a circular economy.
Reference: About Circular Park Kyushu Corporation
In order to realize the concept of "Circular Park Kyushu", which will make the former site of the Sendai Power Plant of Kyushu Electric Power Company (closed in April 2022: Minato-cho, Satsumasendai City, Kagoshima Prefecture) a center for resource recycling, Kyushu Electric Power Company and Nakadai Holdings Co., Ltd. have jointly established a new company, "Circular Park Kyushu Co., (Representative Directors: Masaru Haruki and Sumiyuki Nakadai) on July 26, 2023. The company plans to develop the former Sendai Power Plant site in preparation for the start of resourcing business (recycling of corporate and regional waste) in FY2024, and also to implement solution business (joint research, proofs of concept, consulting, etc., utilizing industry-government-academia networks).
For more information on Circular Park Kyushu, please visit
https://www.circular-park.jp/(Japanese only)
Reference: Event info
Panel discussion at "Kyushu-Taiwan Creative Week," a forum for economic exchange between Kyushu and Taiwan
At the "Kyushu-Taiwan Creative Week" forum to be held in Satsumasendai City from November 15 to 17, SATO Holdings President and Group CEO Hiroyuki Konuma and Nakadai Holdings President Sumiyuki Nakadai will speak at a lecture and panel discussion titled "Circular City: From Satsumasendai City to Taiwan" on November 17. This forum brings together diverse key players from the worlds of industry, government, academia and finance from Japan, Taiwan and the U.S. to promote economic exchange and build momentum toward the realization of a Circular Economy City.
For more information, please see
https://kyushu-taiwan.com/(Japanese only)
1.Digital Product Passport: Use of digital technology to record information such as product origin, raw materials and recyclability so that it can be shared over the product's lifecycle