SATO, a global pioneer in the development of auto-ID and labeling solutions, has launched ASETRA, a package system that utilizes RAIN RFID tags, QR codes and barcodes to simplify management of special tools and returnable items (RTIs). It is made with the needs of manufacturers of foods, automotive parts, electronic components, chemicals and pharmaceuticals and associated logistics service providers in mind.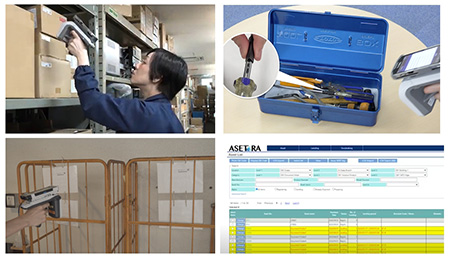 RTIs occupy a middle layer of logistics, between individual components, parts and materials and the freight containers and vehicles (trucks, ships, trains, airplanes) that move them. These can be pallets, rolling boxes and carts, cases to guard electronics against static electricity, canisters to transport gases, iron or plastic molds.
There are an estimated 1 billion RTIs in use globally and these are high value items. The spend on assets within logistics operations is thought to equate to between 5 and 10 percent of corporate revenue for many companies1. With a shrink rate for pallets estimated at around 20 percent annually2, management of these assets is crucial not only for cost savings but for reducing downtime and maintaining productivity.
ASETRA, the easy to implement and deploy system comprises RFID tags designed for compatibility with metal equipment, RFID printers and desktop reader/writers. It allows manufacturers and logistics service providers to store critical service information like purchase date and age of tools and returnable items digitally in RFID tags to streamline management of their entire product lifecycle. At a day-to-day level, the system helps track loan-outs and returns of tools and RTIs. By monitoring assets both locally and remotely, the system provides real-time visibility to streamline stocktaking.
ASETRA is currently available in Japan, China and all markets in Asia where SATO has a sales presence. For more information, inquire here.
1

"The RFID Enabled Logistics Asset Management Benchmark Report" Aberdeen Group (2004)

2

"Report on Research into Effective Utilization of IoT for an Optimal Supply Chain" Japan Industrial Vehicle Association (2017)