SATO, a global pioneer in the development of auto-ID and labeling solutions has launched SATO App Storage, a cloud-based data management service for centralization of labeling data and design templates for food service, retail and other sectors.
In the case of food management, mislabeling can be a life or death matter for foods that contain allergens. For any business, incorrectly labelled product information can lead to significant loss of trust, not to mention lost revenues from potential recalls.
Restaurant chains, supermarkets and retailers spread across wide geographic areas face serious challenges with data management for product labeling. As labeling data updates are often supported by system administrators but carried out by local teams, the process has traditionally been time-consuming, entailing a process fraught with possibility of error. Research shows two top priorities among organizations in terms of data management are increasing efficiency and protecting their reputation and brand. Over half (52%) of organizations maintain high-quality data for the purpose of increasing efficiency, while 39% do so to protect their brand*1.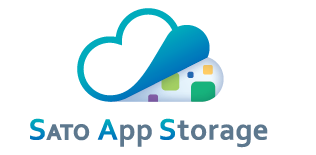 With SATO App Storage, users can streamline processes and ensure the highest level of accuracy in their labeling operations. By centralizing management of labeling data, food and retail chains can ensure product information is always up to date and accurate. Administrators can arrange for updates of label data and label designs to be automated in real time or scheduled for specified locations. The SATO system reduces the time required for data management operations by over half*2 when performing label data updates. It automates updates of apps and printer settings when replacing printers and streamlines management of seasonal label data for holidays and price markdowns.
Also the service features a cloud network of proven security, safety and high availability with best-in-class SLA performance, an Intrusion Prevention System (IPS) to prevent exploits and SSL/HTTPS encryption for secure communication.
"Our secure and maintenance-free cloud printing service ensures up-to-date data anytime, anywhere for peace of mind and cost savings," said Hayato Shindo, President of SATO International Co., Ltd. "Paired with our native value-added services that enable management of label data, design templates and the devices themselves, SATO now offers a comprehensive labeling management solution."
*2

SATO findings (based on comparison with previous models); Label data management processes include communication between HQ and store teams for product data updates, performing settings for new and replacement printers, confirmation of operation and more.
Reference