SATO Corporation implemented its indoor route mapping solution Visual Warehouse at the Nishi Kanto Branch Higashi-ogishima distribution center of Sagawa Global Logistics Co., Ltd., the domestic logistics provider of SG Holdings Group.
With rising volumes of shipments due to the ongoing growth of e-commerce, Japan is experiencing labor shortages in warehouses. Meanwhile, human resources are also becoming more diversified as workforce fluidity increases. To increase productivity, it is necessary to decrease the load on workers and also those who train them while improving accuracy and streamlining operations.
SATO's Visual Warehouse solution is a navigation system that utilizes image and voice recognition to guide order pickers to the shortest route. Workers receive instructions via smart devices from based on their current location information and the coordinates of inventory items, and the system determines the shortest route to the goal.
In conventional warehouses, the picking route was left to the worker resulting in remarkably high productivity of experienced workers but lower with inexperienced workers. This system makes it possible for beginners to achieve work efficiency equivalent to that of veterans. The result is a flattening of productivity across the board from beginners to advanced workers, making it possible for user to employ a wide variety of people, such as short-time workers and the elderly. By making productivity more consistent across the board, efficient on-site operations become possible. With the introduction of Visual Warehouse, Sagawa Global Logistics was able to improve its worker productivity by about 23 percent with the average number of lines picked per hour increased from 60 to 74.
Based on the results of this implementation, Sagawa Global Logistics and SATO will expand their synergies by integrating other IT and IoT tools to increase the productivity of workers, in addition to expanding the scope of the use of Visual Warehouse, the two companies will look into utilization in applications other than order picking with the aim to further streamline operations.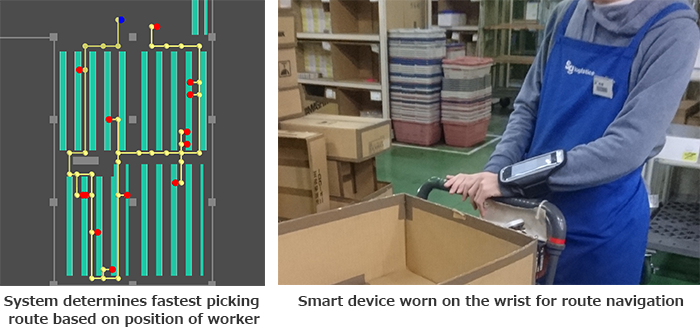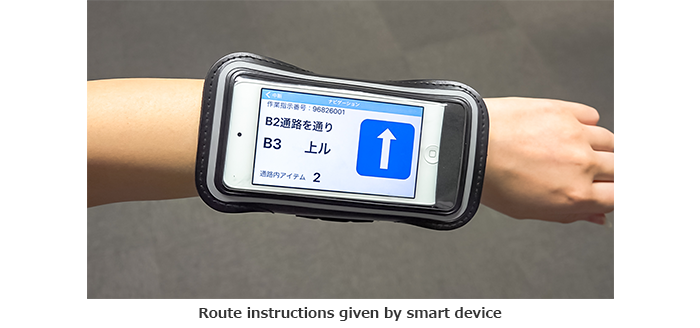 About Visual Warehouse
Visual Warehouse is an indoor navigation system that visualizes and optimizes workflow routes in a warehouse utilizing 3D maps and voice navigation. It is a so-called virtual warehouse manager that visualizes the movement of people and goods in the field, and fully streamlines warehousing, inspection and outgoing shipment operations to improve warehouse logistics and effective use of labor. The integrated picking route guidance system guides workers to the shortest order picking route with voice and visual instructions, reducing the time and distance spent by up to 50 percent. This tool empowers inexperienced workers to get used to operations quickly and achieve productivity levels of experienced warehouse workers in a short matter of time. Provided as a cloud service, the system can be implemented easily and quickly. Also, multilingual support is also possible to account for the needs of a diverse workforce.