SATO, a global pioneer in the development of auto-ID and labeling solutions presented an in-store data capture system for retailers to track individual products, consumers and associates to deliver efficiencies for retail operators and enhance the customer experience. The system was on display at the SATO booth from March 5-8 at Tokyo Big Sight (Tokyo International Exhibition Center).
As retailers in Japan deal with chronic worker shortages, store managers are increasingly seeking ways to maximize store efficiencies. Meanwhile, shopping continues to shift from physical stores to e-commerce, turning the physical store into a venue to learn about products hands-on before purchase. More and more, customers expect the digital experience at real stores. SATO aims to enable this through the tagging of items with identifiers using cutting edge radio wave technologies.
Visitors to the SATO booth could experience a next-generation RFID system that will be powered by paper-thin battery-free Bluetooth Low Energy sensor tags. The sensor technology-which minimizes costs for system implementation and data processing-tracks and transmits a wide range of data on movement and status of items and people within the store (associates and customers). It provides insight into purchasing behavior and enables labor savings for product management while also providing appealing in-store services. The system aims to greatly streamline processes to cut costs and enhance the customer experience.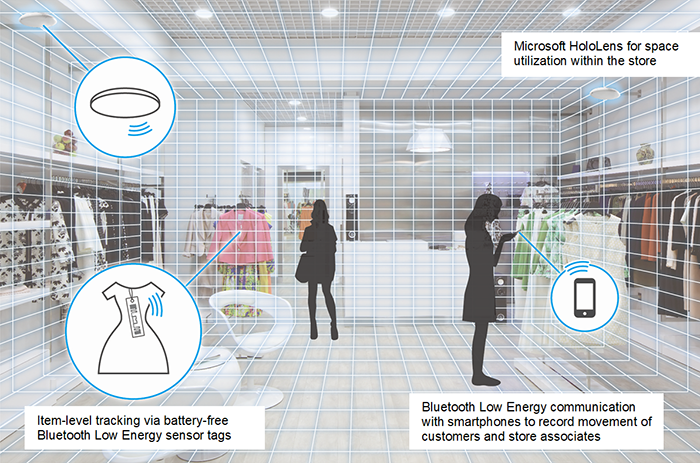 Solution overview
The system will utilize radio transmissions to provide real-time tracking of people and things. Powered by scavenging energy from ambient radio frequencies, the Bluetooth Low Energy sensor tags require no battery and are the size of a postage stamp.
With software from Cisco Systems, the system harvests and processes large amounts of data about location, movement and more at high speed with edge computing to produce real-time insights for retailers.
The captured data is stored in the cloud using Microsoft Azure to produce insights that will contribute to improving the workplace and enhancing in-store service.
Additionally, with the use of the Microsoft HoloLens mixed reality head mount displays, store managers can visualize and analyze space within the store to register and revise store layout maps in 3D with a highly intuitive interface. It also enables them to analyze movements of people and things to understand which products are most often looked at.
SATO is collaborating on next-generation "circular marketing" applications with Keio University Faculty of Business and Commerce professor Akira Shimizu, utilizing vast amounts of purchase data captured in store.
Satoshi Asano, Marketing and Operations Cloud & Enterprise Division Manager and Executive Officer at Microsoft Japan Company, Limited said, "This next-generation RFID digital store solution from SATO is a welcome addition to the market. With data integration and analysis via Microsoft Azure, AI functionality and Microsoft HoloLens, which are all part of our smart store vision, we hope to revitalize retail logistics and support customers' digital transformation."
"I am pleased that auto-ID technology industry leader SATO could unveil this new real-time tracking solution. As consumer purchasing behavior rapidly changes, real-time visualization of in-store data is crucial for deeper engagement with consumers. I am confident that Cisco's proven Cisco USC server infrastructure will become a platform to accelerate retail digitalization," said Masaaki Hattori, Head of Digital Transformation at Cisco Systems G.K. "Through this partnership we will jointly create new value for retailers by providing consumers with a new digital in-store experience."
Akira Shimizu, professor of the Faculty of Business and Commerce at Keio University said, "Understanding the movement of consumers around the store is extremely important in knowing the effect of promotions in and outside the store and the efficiency of the store layout. In particular, data integrating movement and purchase behavior would be a game changer and highly valuable. With this data, we hope to show the relationship between in-store consumer behavior and purchases to provide new value for retailers."
Through further collaboration with business partners and academia, SATO aims to have a proof of concept underway within 2019 and to bring the solution to market by January 2020.
Reference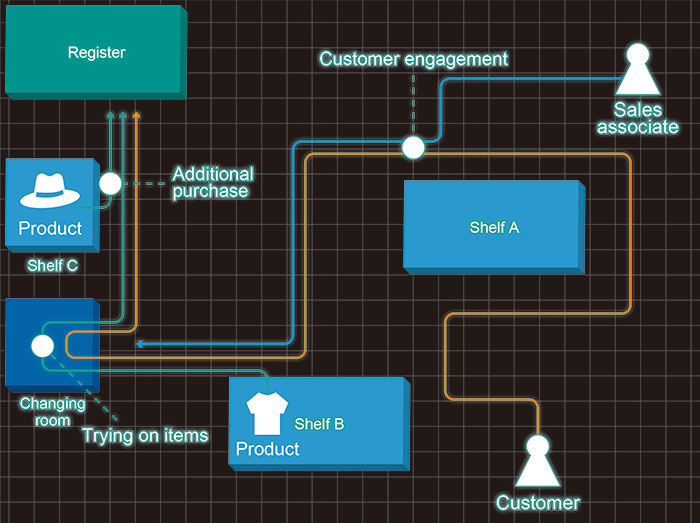 SATO is developing proprietary software to track the movement of store associates, customers and items within the store in real time
System benefits
1.

Cost savings

Labor savings for inventory management (no need for stocktaking)

2.

Improved sales

Better understanding of customer behavior
Provide attractive in-store services like product recommendations
*

Bluetooth® is a registered trademark of Bluetooth SIG, Inc.

*

HoloLens, Azure is a registered trademark of Microsoft Corporation, USA.

*

Wi-Fi is a registered trademark of the Wi-Fi Alliance.