SATO Healthcare and Konishi Medical Instruments Co., Ltd. (hereafter KNS) announced the joint development of an RFID-based inventory management system for surgical supplies. In late June, Osaka International Cancer Institute (hereafter "the Institute") became the first user of the system on a trial basis. With the new system, all medical supplies for surgical procedures are tagged with RFID. The number of items at any given time totals approximately 50,000, and around 1,000 separate items are necessary for a single procedure. Digital tracking of these supplies replaces handwritten operations to greatly boost inventory and expiry management accuracy to improve patient safety.
The Institute currently contracts KNS for administration of medical supplies, pharmaceuticals, test reagents and consumables as an SPD provider*1. All medical supplies had been readied for surgery using a handwritten system in the past. Inventory management and record keeping had previously been performed by teams of two and using a laborious hand-written process for inspection and stocktaking.
With the SATO RFID solution, tags are attached to medical supplies to track expiry date and lot number and solve the issues with the previous manual entry system. While the unit cost per surgery kit is quite low, the high volume of sets that must be managed ensures that the RFID solution provides excellent return on investment thanks to accurate inventory traceability, streamlining of workflows, visualization of patient safety and the all-new opportunity to utilize big data.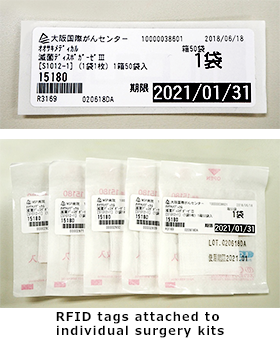 The Institute expects the following benefits from the new system
Accurate inventory management down to individual needles and gauze
Streamlining of the inspection and stocktaking processes for expected labor savings
(Two person team requiring 80 minutes for inspection of supplies before surgeries reduced to one person requiring 10 minutes; stocktaking time reduced from 25 hours to 1)
Records of movement and storage location for traceability of individual medical supplies
(Enables faster collection and expiry management by the number of times the items have entered or exited the operating room, etc.)
SATO is working to enable a healthcare workplace where workers can devote their time to providing services and benefits for patients. SATO has implemented numerous RFID solutions for hospitals including catheter management and specimen tracking to increase patients' peace of mind and streamline the workflows of hospital workers.
*1Supply, Processing, and Distribution (SPD). A system used for flexible and efficient administration of medical supplies.
Comparison of workload before and after implementation of RFID system
You can scroll through this table.
Task
Old operation
Time spent before
RFID system
New operation
Time spent with
RFID system
Inspection of medical
supplies before surgery
(1,000 items per time
on average)
Teams of two manually
double checking volume,
expiry and lot number and
manually entering into form
80 mins
One worker can easily
perform the task by
placing kits on an RFID
reader
10 mins
Registration of medical
supplies(master data)
for each surgery
Manual entry into form,
checking and double
checking identifiers
150 mins
Digital batch registration
of supplies
30 mins
Stocktaking
(as necessary)
Multiple workers performed
stocktaking, double checking
25 hrs
Stocktaking by RFID scan,
double checking
1 hr
Administration of surgical kits at Osaka International Cancer Institute

About KNS
Konishi Medical Instruments Co., Ltd. (KNS), based in Osaka, was established in 1950 and specializes in the sales of medical devices and equipment. For more visit: www.kns-md.co.jp
About SATO Healthcare
Based in Tokyo, SATO Healthcare Co., Ltd. was established in 2014 and provides comprehensive Auto-ID solution planning and implementation for the healthcare industry, utilizing barcodes and RFID, barcode readers, hardware and medical label supplies.