I was appointed President and CEO of SATO Holdings Corporation from April 1. The SATO Group encompasses around 5,000 employees who strive daily in the spirit of ceaseless creativity to create and deliver customer value of accuracy, labor and resource savings, sustainability, reassurance and emotional connections. Through our business we strive to be the most trusted partner for our customers in an ever-changing business environment and contribute to a better and more sustainable world.
Our business domain is tagging objects with identifiers and delivering it to people and systems that need it most, always with the mind of improving society. Our genbaryoku is the driver of our unique ability to correctly identify the core essence of customer pain points at wide-ranging worksites across the supply chain. This genbaryoku is what we call our hands-on approach to troubleshooting in which SATO professional problem-solvers go right to the genba - customers' work sites - and see them with their own eyes. In the age of Industrie 4.0 - the fourth industrial revolution - someone has to handle the complex task of tagging objects with information right on site. SATO is the one prepared to go the last inch of the last mile to fulfil customer needs, keenly aware of our role of contributing to a better world.
I have long been primarily tasked with the front lines of SATO's Japan business, where we leverage our uncompromising customer-first stance, our genbaryoku and our teamwork in developing comprehensive Auto-ID solutions, together with open innovation and strategic alliances to create new added value for customers. Even in Japan, which is said to be a mature market, I still feel there are many growth opportunities for SATO.
It is my mission to drive the growth of our global business using our many years of customer-first expertise in Japan to develop and expand to new markets and be a truly differentiated solution provider on the global stage.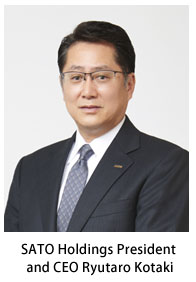 We are targeting sustainable growth and profit. In order to carry this out with certainty I have laid down three core principles: 1) Perfect the basics, 2) Take new challenges and 3) Collaborate.
The needs of customers differ greatly in our rapidly changing world. This is why it is crucial that we dig deep to understand the essence of customer pain points. We must do all the small, obvious things to unmatched perfection using internal and external resources to deliver solutions that provide true value. With this decisiveness to "perfect the basics" at an unparalleled level, I believe we can accumulate small changes and achievements to produce extraordinary results. By sticking to our motto - the spirit of ceaseless creativity - we will continue to take new challenges, collaborating as a borderless, global team to exceed the expectations of customers and continue to be valued by society.
I would like to ask all of our stakeholders for your continued support and guidance in the future.