SATO, a leading global provider of Auto-ID solutions that empower workforces and streamline operations received the Excellence in AIDC Award at the 2017 Malaysia Digital Business Awards.
The Malaysia Digital Business Awards recognizes corporations that have excelled in their respective digital business arenas, making their mark in Malaysia's digital business community. The awards recognize industry leadership, particularly the effective implementation of digital platforms and tools in business. Judges look for evidence of how techniques are adopted and whether they deliver consistent results in unpredictable market conditions.
SATO was recognized for its "Last Inch to IoT" concept in which its SOS preventative maintenance solution and AEP (application enabled printing) enterprise label printing OS enabling smart and connected printing with its CL4NX label printers. Through cloud-based visibility of printer status, SOS ensures zero downtime for crucial labeling operations. By enabling PC-less operations, AEP enables SATO printer users to save space and simplify operations in work sites.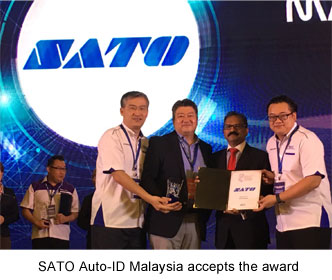 Presented by the Malaysia Digital Chamber of Commerce, the Digital Economy Forum 2017 event showcased and provided a platform of meetings for digital industrialists from adoption to implementation for Internet of Things (IoT), Cybersecurity, Cloud Computing, Big Data, Communication Convergence, Smart Cities, e-commerce and more to provide a new dimension to understanding the digital economy.
"SATO has long been a trusted leader in Auto-ID solutions in Japan," said Satoji Ichiki, Managing Director of SATO Auto-ID Malaysia. "Through persistence and dedication, our team has successfully embraced the SATO way here in Malaysia as well. This award is evidence of our strong commitment to end user-centric innovation for customers in Malaysia."