SATO, a leading global provider of Auto-ID solutions that empower workforces and streamline operations announced that Brazil-based Group company Prakolar SATO was awarded in the labels for packaging materials (Materiais de Embalagem, Rótulos) category by Brazil's Pharmaceutical Industry Syndicate, Sindusfarma. It was the third straight year Prakolar SATO was awarded and sixth time in total, making it the most awarded in this category.
The Sindusfarma Quality Award for Suppliers 2017 award ceremony took place on May 22, 2017 at Tom Brasil show room in Sao Paulo. The award has been in existence since 1996.
The judging is broken down into five commercial categories: packaging materials, raw materials, service providers, machinery and equipment, and quality control materials, equipment, instruments and services. Prakolar SATO was selected as the premium producer of labels for packaging materials.
The top suppliers are selected based on a three-tiered system that comprises online voting from the Brazilian pharmaceutical industry, customer votes and evaluation of product quality. Product quality is evaluated by an intensive audit of each suppliers' internal quality controls, factoring in everything from management responsibilities to traceability and validation.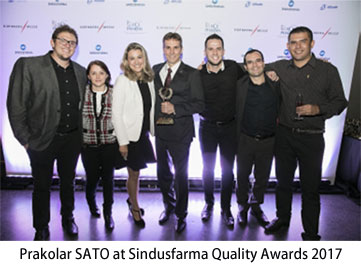 Winning companies must have a quality manual or similar documentation that describes all activities towards ensuring products and services with the lowest possible rejection and rework rate, which directly coincide with the quality, safety and efficacy of medicines and contribute to the elimination of risk to the health of the patient.
Prakolar SATO CEO Alexandre Chatziefstratiou said, "Prakolar's sixth Sindusfarma victory highlights the quality and commercial standards and our extreme know-how acquired through hard work, investment and dedication to providing solutions and true innovations for the pharmaceutical industry."
The list of this year's Sindusfarma Quality Awards winners can be found here.
About Prakolar SATO
Founded in August 1967, Prakolar SATO has became part of SATO Holdings since November 2015. Prakolar constantly works to enhance processes, equipment and materials and is recognized as one of the leaders in the pressure sensitive primary label market. Located in São Paulo at an industrial complex of over 5,000 m2, Prakolar SATO is equipped with a series of latest generation machines to supply any order, from small to large print runs. These features make Prakolar SATO one of the top suppliers for the pharmaceutical, cosmetic, food, chemical, beverage, and other industries.