SATO, a leading global provider of Auto-ID solutions that empower workforces and streamline operations was simultaneously named to the Health & Productivity Stock Selection by Japan's Ministry of Economy, Trade and Industry (METI) and the Tokyo Stock Exchange (TSE), and the Superior Health & Productivity Companies (the White 500) by METI and Nippon Kenko Kaigi (Japan Health Council).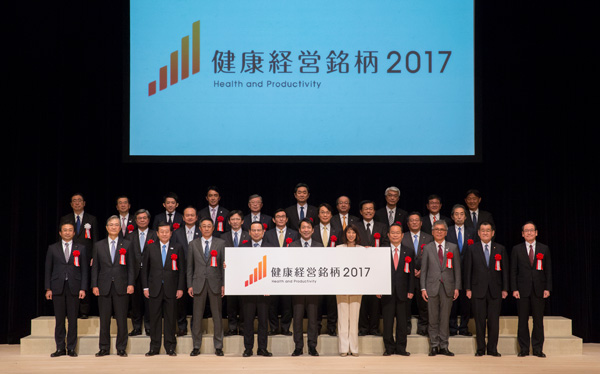 Health & Productivity Stock Selection and the White 500
The Health & Productivity Stock Selection comprises companies that consider the wellness of the employees as a top management priority for strategic implementation to improve corporate value. Since 2015, the selection is made by METI and TSE and is limited to only one listed corporation per industry category. SATO was recognized in the 'machinery' category. Meanwhile, the newly inaugurated White 500 aims to broaden the awareness of employee wellness. As such, it is not restricted to listed companies, and by 2020 will select 500 large organizations that implement superior wellness practices in collaboration with key stakeholders.
The SATO wellness philosophy: Participation by All

Under the leadership of Chief Wellness Officer Hiroyuki Konuma and Chief Human Resources Officer Shigeki Egami, SATO has built a work-site oriented wellness network nationwide by appointing each regional office and business unit head as the person responsible for driving wellness initiatives and others as those in charge.
As part of its corporate mission of ceaseless creativity for a better and more sustainable world, SATO has employed its Teiho system for 40 years. With the Teiho system, all SATO employees in Japan submit proposals directly to the top management with the goal of improving the company. This unique knowledge management system has helped cultivate a corporate culture of continuous small changes based on the ideas of individual employees. Several ideas from employees helped enhance company-wide wellness measures:
All employees submit wellness goals each year. The company in return pays wellness action allowances.
Each regional office and business unit holds a wellness event with progress shared internally.
The designated smoking space is equipped with secondhand smoke removal systems and is accessible only with a fee.
Well thought-out Teiho suggestions are considered for implementation. One past proposal that was carried out was ordering catering service for low-calorie lunch boxes.
Moving forward, SATO is committed to enhancing employee wellness through participation by all to improve working styles so that every single employee shines and performs to the best of their ability.