SATO, a leading global provider of Auto-ID solutions that empower workforces and streamline operations, received the 2016 CRM Best Practice Award from CRM Association Japan on November 11 in Tokyo.
The CRM Best Practice Award program seeks to recognize innovative companies and organizations with customer-centric management philosophies that utilize IT systems to manage the business-customer relationship. Winners are selected by a panel of 12 judges with specialty in related fields. The 2016 CRM Best Practice Award is the 13th iteration of the award.
SATO was recognized for SOS (SATO Online Services), its cloud-based IoT printer maintenance service launched in 2015*1. The service provides remote support for SATO label printers 24/7, 365 days a year and identifies problems before they occur to ensure zero downtime for customers.
CRM Association Japan praised SOS as an example of a CRM platform that is essential for more efficient customer service and which makes full use of IoT technology to understand customers better, shifting from passive to active and predictive maintenance.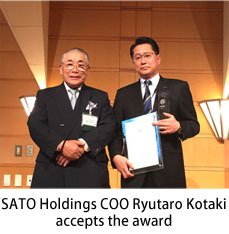 "We service customers across a huge range of industries by rigorously identifying their pain points," explained SATO Holdings COO Ryutaro Kotaki. "It is a great honor to receive this award for our strong efforts to form deep and long-lasting relationships with our customers."
SATO set out as its Vision under its medium-term management plan to be the leader in the Auto-ID solutions industry worldwide and the world's most trusted company through creation of solutions for precision, labor and resource savings, peace of mind and environmental protection. It sets the pursuit of globalization and maximization of customer value as its long term basic strategy to realize this Vision. SATO continuously seeks to strengthen its customer-centric focus as it rolls out new services and solutions.
*1First launched in Japan in August 2015, SOS is currently in trial operations in the U.S., Europe and Asia.