SATO, a leading global provider of Auto-ID solutions that empower workforces and streamline operations, announced that it was awarded the 18th AUTO-ID System Award from the Japan Automatic Identification Systems Association (JAISA) for the 'Smile IC Tag' wristband solution. SATO Material received the award September 14 at a ceremony at the 2016 AUTO-ID Communication Expo in Tokyo. The award recognizes the most cutting-edge and effective uses of auto-ID technologies and systems.
SATO Material implemented the Smile IC Tag wristband solution in collaboration with Okinawa Tourist and Ubiq System for the Naha Kokusaidori shopping street association. A number of features were integrated into the Smile IC Tag wristbands, including e-money and tax-free paperwork procedures. The waterproof wristbands, which feature a tropical design, were used by foreign tourists to make purchases, collect points and receive discounts at 100 affiliated stores in Naha's Kokusaidori shopping district. They could also participate in games, fortune-telling and quizzes and complete tax-free paperwork procedures in only 30 seconds.
The Smile IC Tag initiative encouraged increased contact with tourists and locals and helped vitalize the inbound tourism business in Okinawa. It is expected to be a model for improving accessibility in Tokyo during the 2020 Olympics.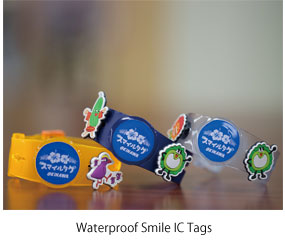 SATO Corporation was also awarded the Award of Excellence for its frozen food print-and-apply auto-labeler robot, which utilizes image recognition.
With Japan's declining birthrate, it is increasingly difficult for its chilled and frozen food industry to secure personnel at warehouses and logistics centers. At these workplaces, workers must apply food labels with new expiration dates when food is thawed. This task, which is performed in below zero temperatures, requires technical skill and taxes employees' health. To overcome these challenges, SATO developed the auto-labeler robot to operate at temperatures as low as -5°C. It accurately applies labels in a predetermined location on the packaging no matter the orientation on the conveyor belt.
SATO continues to strive to meet the needs of customers across all industries it serves to provide precision and labor savings.