SATO, a leading global provider of Auto-ID solutions that empower workforces and streamline operations, announced it had deployed an auto-ID solution for Mitsubishi UFJ Trust and Banking (MUTB) to manage loan paperwork utilizing the Colorbit*1 code system. The system involves codes attached to the rear page of loan files. A camera is used to batch scan a large number of documents and immediately locate a specified document. The system is more advanced than barcodes at a lower cost than RFID technology.
The system was deployed for MUTB's Retail Loan Planning Division which handles a vast number of loan related documents from credit applications to identity verification documents and more. The aim of the new system was to accurately and efficiently manage the bank's huge stores of files.
The system presented three main benefits for MUTB. It drastically reduced the document inventory process, made it possible to locate documents immediately and presented high performance at a low cost.
The inventory process, which had involved manual checking of ledgers and documents and data entry, was improved by 92 percent with the introduction of the SATO system. After system deployment, documents could be read with just a camera, cutting necessary worker hours from 213 to 16. The ability to manage risk of error by involving fewer employees was also a key benefit.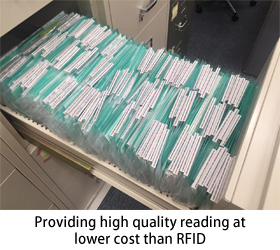 By entering the document code with the customized software application, the corresponding Colorbit code lights up red on the display to show the location immediately. This cuts out the tedious step of searching through vast stores of documents.
Finally, unlike barcode systems, Colorbit does not require scanning of individual documents, which drastically cuts down on labor. The Colorbit codes can be printed with standard printers and read by commercially available cameras, undercutting RFID systems in terms of both implementation and operational cost.
*1Colorbit is an auto-ID coding technology in which data is represented by an array of colors. Colorbit is a registered trademark of bcore Inc.