SATO, a leading global provider of Auto-ID solutions that empower workforces and streamline operations, announced that it implemented a tax-free sales solution proof of concept (PoC) using Pepper, a humanoid robot developed by SoftBank Robotics Corporation. The PoC was conducted for the Omotesando Hills location of Dan Genten, a men's leather accessories brand, and was the first of its kind in Japan.
The SATO PoC used Pepper to both give international tourists to Japan a pleasant in-store experience while decreasing the workload of store staff by helping with the forms associated with tax-free shopping in Japan.
For the trial, SATO developed a proprietary app for Pepper that attracts customers in Chinese, English and Japanese to provide product explanations and checks that the consumer is eligible for tax-free shopping (is a non-resident, has passport in hand, and makes a purchase of 5,000 yen or more). For those that are eligible, Pepper prompts the customer to scan their passport and prints out the necessary documents (Record of Purchase Card and Purchaser's Agreement) on a label printer positioned nearby.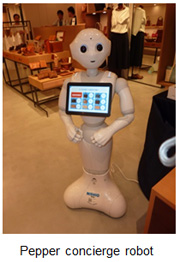 "Pepper helped drive customers into our store," explained Kenji Taniwaki, Assistant Branch Manager of Dan Genten's Omotesando Hills location. "Having Pepper guide customers through tax exemption procedures decreases the workload of our staff preparing documents and we expect it will help cut the waiting time for customers during the process."
SATO will conduct a demo of the Pepper tax-free sales solution at Inbound Japan 2016 (booth 624) at Tokyo Big Sight July 20-22, 2016.
About Dan Genten
The Dan Genten brand is a men's line established by Kuipo in 1999 under the concept of "genten" (starting point). The ecologically manufactured line is designed to be nature friendly, paying respect to the natural aesthetic of tanned leather.
About Kuipo
Headquartered in Tokyo, Kuipo engages in the planning, manufacture and sales of handbags and total fashion goods and was established in 1965.