SATO, a leading global provider of Auto-ID solutions that empower workforces and streamline operations, has appointed a new management team to help the company strengthen its position as an end-to-end solution provider in Europe. Neil Batchelor was appointed the new General Manager for European sales, while Laurent Lassus becomes General Manager of Marketing & Product Management, and Detlev Müller takes the role of General Manager for the DACH area (Germany, Austria and Switzerland) and Eastern Europe.
The new team, led by SATO Region Head for Europe, Tetsushi Kondo, will focus on strengthening the presence of SATO's label printer technology - including the NX Series of standalone AEP industrial printers - across the European market. Another key task will be reinforcing SATO's relationship with its European channel partners and distributors across segments such as food and beverage, retail, healthcare, logistics and manufacturing.
"We want to make sure that our customers in Europe are satisfied and that we deliver the best products and solutions thanks to our uncompromising hands-on approach to problem-solving," said Tetsushi Kondo, Managing Director of SATO Europe GmbH. We see great potential for growth in the European market and our newly-opened state-of-the-art manufacturing facility and logistics centre in Poland demonstrates our commitment to expanding our business in the region. The new management team will help SATO achieve its vision of becoming the world's leading auto-ID solutions company and the partner of choice."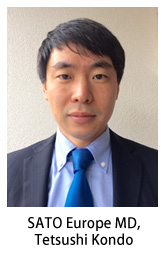 Following his new appointment, Neil Batchelor, who is presently Managing Director at SATO UK, will step down from his current position. Operations in the UK will now be led by Jason Wise, General Manager, but Neil will continue supporting SATO UK as part of his new European role.