SATO, a leading global provider of Auto-ID solutions that empower workforces and streamline operations, launched operations at its modern, new labels plant in Poland. The €5.7 million plant, located in Wroclaw, Poland launched operations in March producing printer labels and primary labels for a large number of applications including tags and tickets. The new plant services all of Europe.
The new 5,173 m*2 facility is equipped with a positive air pressure production area to ensure the highest level of clean label manufacturing. Maintaining high air pressure helps prevent insects and dust from contaminating the production area.
SATO has a network comprising owned and partner plants across Europe, a region that represented 25% of the world's label market in 2014*1. SATO, which began operations in Poland in 1999, further establishes its position as a long-term player for the highest quality label production in the region at a time when nearly two-thirds of European brand owners expect to purchase more labels*2.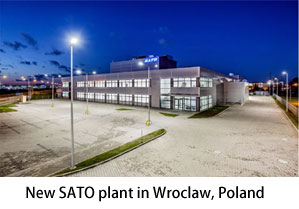 SATO Polska sp z o.o. Managing Director Krzysztof Peciak explained, "Positive air pressure facilities are rare in Europe and can benefit pharmaceutical, food and beverage and automotive customers by meeting the strict label production requirements of these industries."
SATO Europe Head Tetsushi Kondo said, "With this major commitment, SATO provides customers and partners in Europe with world-class label production technology and demonstrates our long-term commitment to serving the region for years to come."
The new plant is located in on the southwest outskirts of Wroclaw for ideal access to major highways linking central and eastern Europe. The SATO Group currently maintains sales offices and/or label production facilities in nine countries in the region including Germany, France, Italy, the Netherlands, Poland, Russia, Spain, Sweden and the UK.
*1.

*2.

FINAT Radar Winter 2015 Label Volume Purchasing Projections for 2016