SATO, a leading global provider of Auto-ID solutions that empower workforces and streamline operations, announced the restructuring of its Indonesia business. It renamed its Indonesian labels production unit PT. SATO Label Indonesia and moved production to a new, state-of-the-art plant. SATO also established a new sales unit named PT. SATO Label Solutions. The organizational changes strengthen the SATO Group's capability in the rapidly growing Indonesian market.
The new SATO Label Indonesia labels plant started operations in May 2016 and is located on the outskirts of Jakarta, boasting 9,366 square meters of floor space with wheelchair accessible entrances and exits. New equipment was installed to enhance the plant's output capacity over the previous facility. The new plant is equipped with a positive pressure system to maintain a higher pressure than the external environment which prevents insects and dust from entering the production area.
Production of SATO labels in Indonesia had previously been conducted by SATO Nagatomi, which was established in 2012 to facilitate the realization of the SATO Group's unique DCS & Labeling global business model in the country. Labels are a core pillar of SATO's novel DCS & Labeling business model as the medium for tagging data and objects at the item level. With DCS & Labeling, SATO integrates data collection systems (barcode printers, software, maintenance service) and labeling (printer labels) to provide comprehensive Auto-ID solutions that deliver accuracy and labor-savings for customers on the front lines of operations.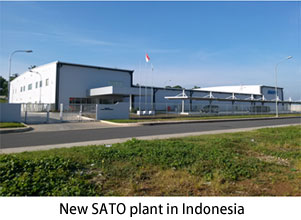 SATO Label Solutions was set up to enhance SATO sales capability in Indonesia and will operate in five locations around the country: Jakarta, Bandung, Semarang, Surabaya and Denpasar. It will handle sales of software and hardware including barcode printers, hand labelers and more.
SATO Label Indonesia and SATO Label Solutions head Hirotaka Wada explained, "Our new labels plant meets the stringent sanitation and quality demands that healthcare, food and beverage and industrial manufacturing customers have for labels. Our cutting edge production technology ensures globally consistent levels of label quality. We intend to couple this capability with an enhanced sales presence to meet the high demands of customers in Indonesia."
"At SATO, not only meeting but exceeding customer expectations is part of our culture," said SATO Asia Pacific Region Head Hayato Shindo. "With these business enhancements we will improve our capability to work hand-in-hand with business partners and customers in Indonesia to provide high value Auto-ID solutions."