SATO, a leading global provider of Auto-ID solutions that empower workforces and streamline operations, implemented a system of wearable devices and beacons*1 at the Nagasaki Prefectural School for the Blind.
The system comprises name tags with attached beacons for all school employees, students and guests. Beacons are also attached to obstacles around the school grounds. Students simply tap the BL-01*2 wearable device three times to receive audio cues through bone conduction headphones they wear to explain who or what is in their general vicinity. The device is worn on their wrist.
While visually impaired individuals have difficulty recognizing persons and objects in their vicinity, most aspects of Japanese society are designed for those with normal vision. There are needs at similar institutions across Japan for universal design systems that enable self-sufficiency.
"We are proud to be able to play a part in increasing the independence of these students," said Kaz Matsuyama, CEO and President of SATO Holdings Corporation, "Through value-added customized solutions, SATO aims to be a leader in the auto-ID solution industry. This is not just in terms of sales volume but also helping the community."
Instructor Toshinori Kozasa said, "We have high expectations for the system in establishing a new style of communication between visually impaired persons and those that can see. This system is part of a bigger effort to move away from a culture of providing for persons with disabilities to fostering one that empowers them to stand on their own."
The Nagasaki Prefectural School for the Blind is the first school for the blind in Kyushu. Its mission is to help the blind, people with impaired vision and those at risk of losing eyesight in the future. The students range in age from children to those in their fifties, and all strive to be active and independent in society.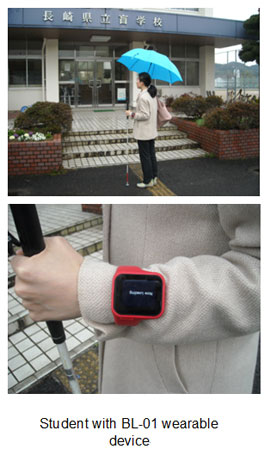 *1

Beacons are broadcasting devices that acquire location information and other data.

*2

BL-O1 is an IoT data transmission device equipped with GPS and sensors. It is developed by BIGLOBE.