SATO, a leading global provider of Auto-ID solutions that empower workforces and streamline operations, was awarded the sixth annual Japan's Most Cherished Companies Award from the Management Society for Promotion of Workplace Well-Being. SATO received the Minister of Economy, Trade and Industry Award, the most prestigious award.
The award recognizes companies based in Japan that strive to promote well-being of employees and their families, external contractors and suppliers, customers, the local community, shareholders and more. The strict criteria for winners include a track record of no sweeping personnel cuts, not aggressively pressuring suppliers to lower costs, hiring higher numbers of persons with disabilities than required by law, operating at a profit, and no major work-related accidents. There were 59 entries for the award from July to November 2015 and 18 winners were selected.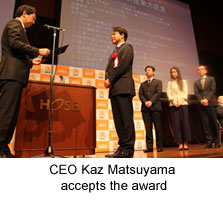 SATO was specifically selected as one of Japan's most cherished companies for its OIP system and its Spirit of SATO code of conduct. The OIP report system, which has been in place for 40 years, allows each employee to provide original ideas, inventions and proposals (hence, OIP) directly to the CEO on a daily basis to improve the workplace and internal systems. The Spirit of SATO lays out the essence of SATO through basic management principles, how SATO professionals should work and the "SATO Way." It is a governing philosophy that seeks to keep SATO forever young, fun and thrilling-a company that never bores and is always exciting for employees.
"'Ceaseless Creativity for a Sustainable World' is not just a catchphrase, it's our lifeblood," said Kaz Matsuyama, CEO and President of SATO Holdings Corporation, "This management philosophy has been at our core throughout our 76 year history. With our OIP system that brings individual employees' ideas to life, we will continue to evolve to ensure we provide value for society."