SATO, a leading global provider of Auto-ID solutions that empower workforces and streamline operations, announced that it launched the CL4/6NX-J series, the world's first Internet of Things (IoT) label printer service*1 compatible with SATO Online Services (SOS), a cloud-based maintenance solution.
SOS is a maintenance service developed to provide virtual customer engineers that are always available around the clock. The service monitors label printers 24 hours a day 365 days a year to identify problems and provide support before they occur to ensure stable operations for customers. By analyzing logged data with the permission of customers, SOS enables improved operating rates and efficiency. The solution will be rolled out gradually, first in Japan and eventually in the United States, Europe and the APAC region.
CL4/6NX features universal functionality and design with plug-and-play connectivity and multiple languages so anyone around the world can easily use in any work environment and infrastructure. As global demand for standardized and optimized operations grows, the SOS ready CL4/6NX-J solution offers remote monitoring and preventative maintenance to eliminate unplanned downtime which can seriously impact business.
"This game-changing real-time solution delivers great value to customers by minimizing printer downtime," said Kaz Matsuyama, President and CEO of SATO Holdings. "We are very excited to bring a new level of sophisticated support to offer stable operations and peace of mind for our customers."
SATO plans to expand its lineup of label printers with SOS compatibility in the future.
*1SOS utilizes Heroku and Salesforce Service Cloud from the Salesforce1 Platform, developed by global CRM platform leader Salesforce.com.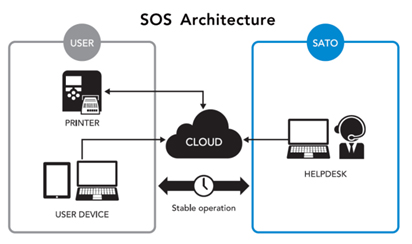 CL4NX-J